Portable Water Supply suits battery watering applications.
Press Release Summary: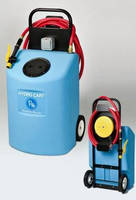 Intended for use with Water Injector Systems(TM), 2-wheel HydroCart(TM) integrates electrical cord that automatically retracts to reducing risk of damage to cord as well as streamline cart operation/storage. Widths of handle grip and wheel base promote stability, and flow indicator tells when injectors have shut off and it is time to disconnect. Built to withstand rugged use, cart contains 20 gal polypropylene tank and fill cap tethered to body of cart.
---
Original Press Release:
Philadelphia Scientific Introduces New and Improved HydroCart(TM)
The updated model of this portable water supply includes a retractable cord reel and streamlined design MONTGOMERYVILLE, Pa. - Philadelphia Scientific, The Lean Battery Room Experts(TM), and a leading international manufacturer of industrial battery components and accessories, has launched the latest version of its HydroCart(TM), a sturdy 20-gallon (75.7 liter), two-wheel, portable water supply for Water Injector Systems(TM). This new model offers several significant updates at no additional cost, including a retractable cord reel. With a focus on enhanced usability, the new design offers the convenience of an electrical cord that automatically retracts inside the cart, rather than requiring manual wrapping. The automatic retracting action reduces the risk of damage to the electrical cord and makes the HydroCart more streamlined, compact and easier to store. The HydroCart's robust design enables it to withstand rugged use and shipment. It features a wide handle grip and wide wheel base for increased stability and mobility, a flow indicator that tells you when the Injectors have shut off and it is time to disconnect, and a user-friendly on/off switch and power indicator, located on the front of the unit. It contains a 20-gallon polypropylene tank and a fill cap tethered to the body of the cart. The HydroCart provides enhanced portability, flexibility and usability for industrial battery watering applications, making it the perfect solution for watering batteries in remote locations. "HydroCart is the perfect watering supply for warehouses and DCs that require watering in remote locations," said Harold Vanasse, vice president of sales and marketing for Philadelphia Scientific. "And the new design makes it more convenient to use and more usable and reliable than ever." Designed to complement Philadelphia Scientific's wide range of battery watering products, the HydroCart is intended primarily for use with the Water Injector System(TM) and Water Injector Spider System(TM), but can also be used with the Stealth Watering System(TM) and the Battery Watering Gun. Designed to cater to users' varied requirements, the HydroCart brings unsurpassed flexibility and convenience to the battery room. The latest version of this portable water supply is now available. For more information on the HydroCart, contact Philadelphia Scientific by phone at +1 215-616-0390 or by e-mail at [email protected]. About Philadelphia Scientific Since 1983, Montgomeryville, Pa.-based Philadelphia Scientific has brought advanced technology solutions to the industrial battery industry. The company specializes in the research, design, development and manufacture of industrial battery components and tools that maximize battery performance.For more information about Philadelphia Scientific, visit the company's Web site at www.phlsci.com or contact the company at 215-616-0390.