Car & Vehicle Washing Equipment
Portable Wash Bay is available in any size.
Press Release Summary: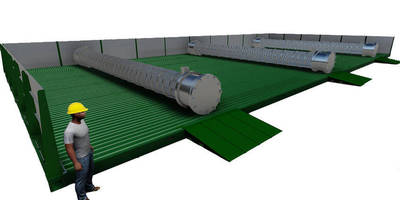 Used for collecting waste water while washing equipment and vehicles in wash bay setting, Hydropad can fit any dimensions required by application. Functionality helps reduce environmental footprint by repeatedly collecting and re-using water, while removable gutter system allows users to piece together any number of pads to meet any length or width requirements. Capacity lets user wash anything from parts and equipment to ultra class mining equipment weighing >75 tons per axle.
---
Original Press Release:
Hydro Engineering's Hydropad Portable Wash Bay Is Now Available In Any Size
Hydro Engineering Inc's world famous portable wash rack, known as the Hydropad, has been the pinnacle tool for collecting waste water while washing equipment and vehicles in a wash bay setting. For sixteen years, several upgrades and patents have made Hydro develop the ultimate wash rack with no limitations on sizes. In 2016, the revolutionary Hydropad can now fit any dimensions that the job requires.

Implementing a Hydropad portable wash rack on the jobsite not only is an innovative solution for washing when ever and where ever it is needed, but using a Hydropad has been proven to reduce many users' environmental footprint by collecting and re-using water over and over again saving time, money, and resources especially in water restricted areas such as drought zones.

Historically, the Hydropad has included a patented gutter system that allows for effluent to be channeled to a designated collection point. This gutter was designed to be a solid continuation of the Hydropad meaning that it could not be removed or placed in different spots on the wash rack. While this design cut down on end user costs, it limited the size and scope in which one could build a wash rack.

Now, Hydro's redesign of the Hydropad makes the gutter system completely removable allowing users to piece together any number of pads to any length or width desired. This redesign has had no effect on how much weight can be placed on the wash rack which enables the user to wash anything from parts and equipment to ultra class mining equipment weighing more than 75 tons per axle.

Contact the experts today for everything wash rack:
Hydro Engineering, Inc.
800-247-8424
http://www.hydroblaster.com