Portable Video Probe has VGA video output.
Press Release Summary: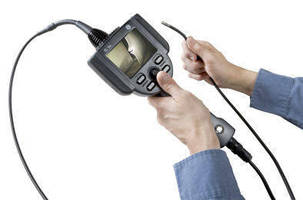 Featuring 1 Gb of internal flash memory and single USB® 2.0 port, XL Vu is designed for basic inspection where operators need a quick view of hard to access areas. Featuring servo motor All-Way® Probe articulation, ac corded or upgraded battery powered options, and full tip optic interchangeability with secure double threads, unit suits applications in oil and gas, power, automotive, security, and aerospace industry.
---
Original Press Release:

GE Sensing & Inspection Technologies Introduces the XL Vu VideoProbe



The XL Vu is portable and equipped with essential features making it a top equipment value

Billerica, Mass. - DATE. - GE Sensing & Inspection Technologies announces the release of XL Vu, a portable VideoProbe designed for basic inspection where operators need a quick view of hard to access areas. XL Vu is a top equipment value, providing operators with the basic elements needed for accurate inspection at exceptional quality. XL Vu gives inspectors access to exactly what they need to conduct accurate inspections. XL Vu benefits industries such as oil & gas, power, automotive, security and aerospace.

Features include:

o Intuitive, easy-to-use controls

o Servo motor All-Way® Probe articulation

o Standard AC corded or upgraded battery powered options

o Custom shipping and storage case included with system

o 1GB Internal Flash memory

o 1 USB® 2.0 port, VGA video out

o Full tip optic interchangeability with secure double threads

"The XL Vu meets the needs of companies who need to perform basic inspections with superior image quality, but don't need additional features found in higher end models," said Todd Brugger, Product General Manager for Remote Visual Inspection at GE Sensing & Inspection Technologies. "GE understands that not all inspections require the same equipment. XL Vu meets the needs of companies needing different levels of inspection."

To learn more about XL Vu please visit: www.gesensinginspection.com

About GE Sensing & Inspection Technologies

GE Sensing & Inspection Technologies is Healthcare for Infrastructure. The business is part of GE Enterprise Solutions, a $5 billion business helping customers compete and win in a changing global environment by combining the power of GE's unique expertise and intelligent technology to elevate customers' productivity. GE Sensing & Inspection Technologies is a leading innovator in advanced measurement, sensor-based and inspection solutions that deliver accuracy, productivity and safety to its customers. Its products are used in a wide range of industries, including oil & gas, power generation, aerospace, transportation and healthcare. The company has 4,700 employees at more than 40 facilities in 25 countries worldwide. For more information, visit www.gesensinginspection.com.

For more information contact:

Amanda Fontaine

GE Sensing & Inspection Technologies

t: +1 978 437 1446

m: +1 603 785 8609

e: amanda.fontaine4@ge.com

More from Computer Hardware & Peripherals