Portable UV LED Light has explosion proof design.
Press Release Summary: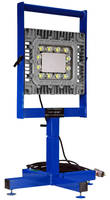 Comprised of 100 W LED light head mounted atop base stand fabricated from non-sparking aluminum, EPL-16BS-1X150LED-UV365-100 operates on 120–277 Vac and comes with 100 ft SOOW cord terminated in 1523 explosionproof straight blade plug. LED light head provides 38,400 mW of 365 nm UV LED light output, and lamp can be adjusted up or down 90° and locked into position. Rated for use in Class 1 and 2, Division 1 and 2 hazardous locations, portable light offers peak wavelength of 365 nm.
---
Original Press Release:

Larson Electronics Reveals an Ultraviolet Explosion Proof LED Light on a Base Stand



Kemp, Texas — Leading supplier of explosion proof and industrial grade lighting Larson Electronics has announced the release of a Class 1 & 2 Division 1 & 2 Portable Explosion Proof Ultraviolet LED Light mounted on a base stand fabricated from non-sparking aluminum. The compact LED light head on this unit provides 38,400 mW of precise 365 nanometer ultraviolet LED light output.



The EPL-16BS-1X150LED-UV365-100 portable explosion proof LED light provides operators an easy to maneuver LED work light for use within hazardous locations. Traditional ultraviolet lights require a coating to block out visible light or a special composition of gases and chemicals used to create a higher concentration of ultraviolet light. This process also produces many other wavelengths of light which go unused and end up as wasted energy. LED lights are unique in that they have a narrower wavelength band than traditional ultraviolet sources and therefore do not require these special coatings. As a result, LED lights do not produce unused, wasted light and consume less energy than traditional UV lights on the market. LED lights are capable of producing very specific wavelengths with tighter curves and are more durable as well as lighter in weight. The ultraviolet A wavelength produces a longer wave between the 400nm – 315nm spectrum. This explosion proof LED light has a peak wavelength of 365nm. The high output LEDs and compact form factor makes this portable inspection light the ideal replacement for Class 1 Division 1 400 watt metal halide lamps with ultraviolet cutoff filters.



This portable fixture is comprised of a 100 watt LED light head that is mounted atop of a base stand that is fabricated from non-sparking aluminum. The lamp can be easily adjusted up or down 90° and locked into position by loosening the two hand screws located on the side of the light head. Once the light is in the desired position, the operator then tightens the screws back to set the position. The light frame assembly features a carrying handle on the top for easy transport and a hand screw at the base allowing operators to pivot the top frame assembly on the four leg base stand. Included with this portable LED light is 100 feet SOOW cord terminated in a 1523 explosion proof straight blade plug. This unit is multi-voltage capable and can be configured to operate on 120-277 volts AC.



"This new ultraviolet light fixture uses LED technology that is far better in energy savings than traditional UV bulbs and do not require the special cut off lens filters," Rob Bresnahan with Larsonelectronics.com said. "This explosion proof LED light is lightweight, versatile and maintenance free."



Larson Electronics carries and extensive line of LED lights, boat lights, intrinsically safe LED lights, LED blasting lights and explosion proof lights. You can view Larson Electronics' full line of industrial grade lighting by visiting their website at Larsonelectronics.com. Larson Electronics can be reached directly by calling 1-800-369-6671 or 1-903-498-6636 for international inquiries.

More from Printing & Duplicating Equipment