Portable USB Module is used for sound and vibration anlysis.
Press Release Summary: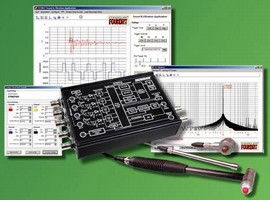 Powered via USB connection to PC/laptop, DT9837A has 4 independent 24-bit IEPE sensor inputs synchronized with tachometer input to provide data streams matched in time for field or laboratory use. Read-back channel from analog output ensures correlation of all signals with input stream, output stream, and tachometer. Different modes allow measurements of rotation speed as well as precise tachometer pulse phase measurement with resolution of 37 ns or 0.002°.
---
Original Press Release:

Data Translation Announces Synchronized, Portable USB Module for Sound and Vibration



Marlboro, Mass., - March 18, 2008 - Data Translation announces the DT9837A, a high performance USB module for sound and vibration analysis. The DT9837A has four independent 24-bit IEPE (Integrated Electronics Piezo Electric) sensor inputs that are synchronized with a tachometer input to provide data streams matched in time for field or laboratory use. A read-back channel from the analog output guarantees perfect correlation of all signals with the input stream, the output stream, and the tachometer. The different tachometer measure modes allow measurements of the rotation speed as well as precise tachometer pulse phase measurement with a resolution of 37ns or 0.002 degree resolution at a rotation speed of 10,000 rpm.

"Numerous vibration applications have contributed to the advanced features of the DT9837A. It's exacting measurement capability is unmatched by any other, while its USB palm-sized module format can be easily used in portable field applications," states Fred Molinari, President and CEO.

This rugged small module is self-powered via the USB connection to a PC or laptop, no external power supply is needed. This makes it ideal for portable measurement applications. Additionally, two modules can be triggered simultaneously for perfectly synched measurements over both.

The DT9837A Offers the Following Features:

o Four simultaneous 24-bit Delta-Sigma A/Ds with support for IEPE inputs including 4mA current source and AC or DC sampling.
o Portable operation, no external power supply needed.
o Tachometer input support in the A/D data stream for synchronizing measurements with two measurement modes for precise edge detection
o Programmable sampling rates from 195Hz up to 52.7 kHz
o Read-back channel for synchronization with analog inputs
o Expansion for multiple modules - programmable Master/Slave synchronization mode
o Programmable analog threshold trigger - 0.2V to 9.8V
o Simultaneous operation of A/D and D/A subsystems for maximum performance.
o One 24-bit Delta-Sigma D/A converter for single value or ultra smooth waveform generation

Software Support
The DT9837A ships with a software applet to get you up and running right out-of-the- box. This applet supports basic operation of the module and can be easily modified for more advanced capabilities using Measure Foundry®, Data Translation's popular rapid application builder software.

Measure Foundry offers a specially designed component that allows perfect synchronization of two modules. This reduces valuable development time as two DT9837A's in a Master/Slave configuration are presented in a single component as if they are one device with twice the channels.

Pricing and Availability
The DT9837A is priced at $1,795 US (OEM version also available) and is shipping in April.

About Data Translation
Data Translation Inc. www.datatranslation.com is the world leader in high performance USB data acquisition, temperature measurement, and open, powerful test and measurement software.