Portable Toilet looks, feels, operates like home restroom.
Press Release Summary: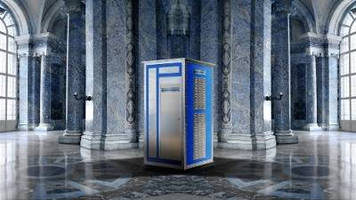 Available for long-term rental, self-contained Waterloo can operate in below zero temperatures and incorporates porcelain flush toilet, separate porcelain waterless urinal (odor-free), faux marble floors, marble walls with wood moldings and wall sconces, and brushed nickel toilet paper holder. Unit does not require electric or external water supply to operate, and weathertight design features marine-grade materials. Two of 9 battery-powered lights are connected to motion detector.
---
Original Press Release:
An Exclusive Restroom by CALLAHEAD Gives You Everything You Always Wanted in a Portable Toilet
Never thought a portable toilet could look, feel, and operate like a home restroom, and need no electrical hook-ups or water supply?  Take a look at the Waterloo by CALLAHEAD

NEW YORK -- Portable toilets are everywhere throughout New York.  Porta potties are not only a convenience for construction sites, parking lots, parks, airports, lumber yards and emergency locations, but a necessity.  With such high demand for portable toilets, for both businesses and special events, it is no wonder the masters of the portable sanitation industry, CALLAHEAD, has created another breakthrough product to their long list of restroom options. CALLLAHEAD has just introduced a brand new portable toilet called the "Waterloo." Once you see the Waterloo, you will understand that CALLAHEAD does live by their mission statement "To Develop and Evolve a Human Necessity." The revolutionary Waterloo was created especially for long-term rental by the inventor, Charles W. Howard, CALLAHEAD Corporation's President and CEO.

The Waterloo advances the portable toilet industry well beyond anyone's expectations. It propels the industry to what everyone who uses a porta potty has asked and ever wanted. Designed by Mr. Howard and manufactured by CALLAHEAD, no other company in the industry has this remarkable portable restroom.  CALLAHEAD has a full video preview of the Waterloo on YouTube presented by Kimberly Howard, Vice President of Marketing and wife of Charles W. Howard.

As you can see in the video and learn on the Waterloo page on CALLAHEAD's website, the Waterloo is an entirely self-contained system designed to give users a look, feel, and comfort of a home bathroom.  The interior doesn't look like your typical porta potty, or even close to one. Another ingenious creation by Howard that is by far the best portable toilet anyone has ever seen.  The exterior of the Waterloo is incredible too and one of the most durable and attractive portable toilets in the industry. The most incredible part of all, The Waterloo requires absolutely no electric or external water supply to operate.

The Waterloo portable toilet is constructed using high-density polyethylene marine grade plastic and marine grade aluminum. It is weather tight and will operate in well below zero temperatures. The Waterloo has marine grade diamond plate aluminum and built-in marine grade stainless steel fasteners adding to the exterior's architectural design. The steel commercial grade door is self-closing, has a key-lock entry, and an internal lock. CALLAHEAD also offers the Waterloo in multiple exterior colors of blue, white, dolphin gray, orange and green for their customers to select the best color option to suit their style and location.

When you enter the Waterloo, you will not believe you stepped inside a portable toilet. Between the homelike design, porcelain flush toilet, and separate porcelain waterless urinal you will immediately feel at ease inside the Waterloo. The hand pump flushing system of the porcelain toilet has been used on yachts for over 80 years. The Sloan waterless urinal has a special filter to operate odor free. The brushed nickel toilet paper holder adds to the decorative detail of the restroom.

Once you step inside the Waterloo, a motion detector automatically illuminates two of the restroom's nine battery operated lights. Using only two of the nine lights at a time delivers extra-long battery life. The faux statuary marble walls are designed with wood base moldings, chair rail moldings, crown moldings, and wall sconces. CALLAHEAD even added more detail others probably would have missed with a white painted wainscot ceiling. The floors are Armstrong faux mosaic marble that looks beautiful and wipes easily clean. CALLAHEAD didn't forget about eliminating the spread of germs either and has installed a built-in Georgia Pacific hand sanitizer dispenser for superior sanitation. The Waterloo also has two wall-mounted interior mirrors.

Renting the Waterloo portable toilet by CALLAHEAD will add value to any New York location. Those who use the Waterloo will be grateful too. From the exterior to the interior's operation, its design and development are like nothing we have ever seen. Thanks to CALLAHEAD, as they never stop competing against themselves to deliver the best in home restroom comfort to the portable toilet industry.

CALLAHEAD services New York's Five Boroughs of Manhattan, Queens, Brooklyn, Staten Island, the Bronx, and Westchester, Nassau and Suffolk Counties. They have been in business since 1976 with professional uniformed delivery and hospital grade cleaning service. For more information about CALLAHEAD's Waterloo and other innovative products, including wedding restroom trailers and construction bathroom trailers, please contact CALLAHEAD directly at 1-800-634-2085 or visit www.callahead.com.

Media Contact:
Korynn Bottone
800-6342085
130153@email4pr.com

Kimberly Howard & The Waterloo Portable Toilet by CALLAHEAD
More from Packaging Products & Equipment