Portable Tester measures crude oil characteristics.
Press Release Summary: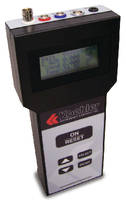 Suited for field or laboratory use, Salt in Crude Apparatus measures salt concentration, conductance, and temperature of crude oil samples as well as pH of aqueous samples. It conforms to ASTM D3230 test specifications, comes with multiple power adaptors, and offers built-in self-calibration feature. There is 24 Kb RAM dedicated to data storage (~500 test results), but complete data storage is limited only by HDD of external PC. Data upload is supported via Windows-based software.
---
Original Press Release:

NEW Koehler Salt in Crude Apparatus!



Koehler Instrument Company, Inc. is pleased to introduce our redesigned Salt in Crude Apparatus. The updated model accurately meets the same laboratory requirements as the previous model however, it incorporates more enhanced features such as an easier to use front panel. The unique front panel allows for effortless operation and easy navigation and the newly designed shape allows increased functionality. An easy to read alpha numeric-display can show four user defined parameters simultaneously. The tester is portable for field or laboratory testing for up to 8 hours of continuous operation.

Additional improvements include data upload via user friendly Windows 2000/XP/Vista based software. The Analyzer has 24Kb RAM dedicated to data storage (about 500 test results) and complete data storage is only limited by the hard drive of the external PC. New Windows based software is easier to use and more universally understood. The new apparatus is now available with universal voltage and comes with multiple power adaptors allowing it to operate in a wide range of destinations. With a built in self-calibration feature, the user can adjust for any drift without having to re-enter standard temperature curves.

The new Salt in Crude Apparatus conforms to ASTM D3230 test specifications. With high accuracy and precision, the apparatus measures salt concentration, conductance, temperature of crude oil samples and pH of aqueous samples.

The Salt in Crude Apparatus is available from Koehler Instrument Company, Inc, a leading producer and supplier of petroleum, synfuels, petrochemical and biofuels instrumentation worldwide.

For more information, contact Koehler Instrument Company, Inc., 1595 Sycamore Avenue, Bohemia, NY 11716. Phone: 631-589-3800. Fax: 631-589-3815. Email: sales@koehlerinstrument.com. Website: www.koehlerinstrument.com

More from Transportation Industry Products