Portable Test Enclosures offer non-radiating door closure system.
Press Release Summary: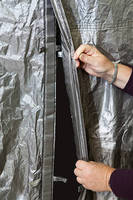 Series 100 Select-A-Shield™ RF shielded portable enclosures, as well as custom configured tent systems, include 40 in. wide x 54.5 in. high, double door, single magnet door closure system option that can be specified to open in or out. RF/EMI enclosures are constructed with RoHS-compliant silver/copper/nickel NovaSelect™ fabric that delivers max attenuation of -85 dB typ in shielding effectiveness from 30 MHz to 1 GHz and -80 dB typ shielding effectiveness from 1–10 GHz.
---
Original Press Release:

Patent Awarded to Select-A-Shield(TM) RF Shielded Room Closure System



Select Fabricators, Inc. awarded a US patent for its double door, single magnet enclosure door system.



Canandaigua, NY USA:  Select Fabricators, Inc. newly patented, non-radiating door closure system is part of the complete RF EMI shielding design for their Select-A-Shield portable test enclosures. Focused on minimizing leakage, improving isolation as well as providing easy entry and exit, SELECT developed the patented (US Pat. No. 8,530,756) double door system.  All 16 models of standard Series 100 Select-A-Shield™ RF shielded portable enclosures as well as custom configured tent systems now include a standard size 40"W x 54.5"H double door, single magnet door system option.



The double door, single magnet closure system can be specified to open in or out for ease of entry.  A single strip of magnet along three sides of each door is lightweight, with a tight double seal and a lower threshold for improved access. This door system is an improvement over zippered or conductive hook & loop doors which take longer to open, may not be conductive and typically require higher thresholds.



Select-A-Shield RF / EMI enclosures  are constructed with RoHS compliant, durable, lightweight, silver/ copper / nickel, NovaSelect™ fabric; SELECT's proprietary highly conductive material. This flexible material delivers maximum attenuation averaging -85 dB in shielding effectiveness in the range of 30 MHz to 1 GHz and an average of -80 dB of shielding effectiveness in the range of 1 GHz to 10 GHz.



Made of thermoplastic material, the flexible magnets can be bent and flexed without affecting their performance and magnetized in a matched pole configuration to provide even alignment when closing the doors.  The magnets are encased in NovaSelect material along three sides of the doors and are easily opened and closed with user-friendly alignment tabs. Using NovaSelect material, with a surface resistivity of 0.006 ohms-per-square, as the door seal between the magnets provides a very effective door closure system with repeatable shielding performance.



Select Fabricators also currently offers a patent-pending single door / double magnet design. "We suggest door closure systems based on customer requirements", remarked Gary Winch, COO and patent co-inventor, "The need for enhanced shielding effectiveness is often met using a double wall layer and newly patented double door design." Testing has shown a double door, double wall layer design yielding -88 dB at 1 GHz, and an average of -78 dB from 150 kHz to 18 GHz. "Our Select-A-Shield portable enclosures are tested as complete units." stated Brian Smith, Director of Product Development and co-inventor, "It's hard to compare the performance to similar enclosures that are promoted using fabric only test data. Our performance data includes factory installed ventilation, IO plate and cable sleeves as part of the complete shielding enclosure design. We feel we have the best performance and highest attenuation on the market."



Select-A-Shield RF / EMI products are ideal for numerous applications including wireless device development and testing, secure communications, EMC pre-compliance, medical and aerospace equipment shielding, cellular and computer forensics and RFID shielding for commercial and industrial settings.



Corporate Information

Founded in 2000, Select Fabricators, Inc. excels in development of RF / EMI solutions including shielded enclosures, pouches and curtains, as well as the procurement of state-of-the-art materials, research, design, manufacturing, fulfillment and production to stringent quality standards with complete project management. With capabilities including industrial sewing, heat sealing, ultrasonic welding, pad printing and cleanroom operations, SELECT delivers a wide array of solutions to the aerospace, forensics, homeland security, law enforcement, industrial, medical, military and wireless communications industries.



Select Fabricators, Inc., a privately owned company, conveniently located in Canandaigua, NY USA near major transportation routes including the NYS Thruway. SELECT's main facility consists of over 19,000 square feet of flexible manufacturing, warehouse and office space with a Class 10,000 Fed. Std. 209 ISO Class 7 cleanroom and Class 100 Fed. Std. 209 ISO Class 5 curtained area.



Contact Information

Select Fabricators, Inc.

5310 North Street, Building 5

Canandaigua, NY 14424

www.select-fabricators.com

+1.585.393.0650

+1.585.393.1375 (fax)

selectus@select-fabricators.com

More from Printing & Duplicating Equipment