Portable Signal Recorder/Player streams data at 500 MB/sec.
Press Release Summary: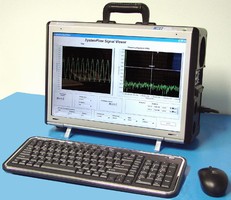 Built on XP Pro workstation with 17 in. LCD, RTS 2721 features 2.4 TB disk storage via 13, 2.5 in. HDDs: one handles OS, others act as dual RAID arrays dedicated for real-time recording/playback. Solution digitizes 2 analog input signals at sample rates to 125 MHz, handling IF input signals with center frequencies to 300 MHz or baseband signals to 60 MHz. With programmable decimation factors from 2 to 32,768, digital downconverter output signal bandwidths can range from 8 kHz to 60 MHz.
---
Original Press Release:

Pentek's RTS 2721 Portable Signal Recording and Playback Instrument Streams Data at 500 MB/Sec



o Digitizes, records and reproduces two signals up to 60 MHz bandwidth
o Portable, lightweight instrument for field use - only 23 pounds
o Provides up to 2.4 Terabytes of disk storage
o Eliminates lengthy file conversions via a direct NTFS recording format
o Fulfills need for a separate oscilloscope or spectrum analyzer
o Provides an optimized environment for communications, radar, wireless, SIGINT and SATCOM

UPPER SADDLE RIVER, NJ-June 3, 2008-Pentek, Inc., today announced its Model RTS 2721 Portable Signal Recording and Playback Instrument, delivering truly remarkable performance while weighing only 23 pounds and measuring just 16.8 inches wide, 5.7 inches deep and 11.5 inches high. With recording and playback rates up to 500 MB/sec, the unit is well suited for a broad range of communications and radar applications that require acquisition, down-conversion, analysis, up-conversion and reproduction of baseband and intermediate frequency (IF) signals.

"The RTS 2721 is especially valuable for our government and military customers who need a highly portable instrument to record or reproduce wideband analog signals," said Rodger Hosking, vice president of Pentek. "Pentek's previous RTS 2500 Series VME systems handled peak record and playback rates of 160 MB/sec. Now with the RTS 2721, that rate has more than tripled to 500 MB/sec - a substantial jump, especially considering that it's a portable instrument."

Exceptionally High Data Rates
The RTS 2721 incorporates Pentek's high-performance Model 7641 Software Radio Transceiver. Two 14-bit A/D converters digitize two analog input signals at sample rates up to 125 MHz, thus handling either IF input signals with center frequencies as high as 300 MHz or baseband signals up to 60 MHz.

Multiple digital down converters (DDCs) translate tunable frequency slices of the input spectrum down to baseband and then filter the output. With programmable DDC decimation factors from two to 32,768, DDC output signal bandwidths can range from 8 kHz to as high as 60 MHz.

Both A/D samples and DDC output samples can be recorded continuously in real time to internal hard disk RAID arrays (Redundant Array of Independent Disks) at aggregate sustained rates up to 500 MB/sec. Flexible modes support synchronous multi-channel recording for beamforming applications and independent recording of multiple channels, each at different data rates.

Flexible Playback Modes for Signal Reproduction
Playback operation allows analog reproduction of digital signals stored on the RAID array through two 16-bit D/A converters. At sustained playback data rates up to 480 MB/sec, digital sample streams can be delivered directly to the D/A converters to generate baseband signals as high as 60 MHz.

Built-in interpolation filters can boost baseband sampling rates by a factor of two to 32,768, producing D/A rates up to 500 MHz for optimum smoothing of the analog output waveform. A digital up converter (DUC) can translate recorded baseband signals to IF center frequencies as high as 160 MHz at bandwidths of 8 kHz to 60 MHz.

A Full-Featured Portable Workstation
The RTS 2721 is built on a Windows XP Professional workstation, with a dual-core Opteron processor and integral high-resolution 17-inch LCD display. Data can be transferred from and to the instrument via triple GigENET ports, two external SATA II ports, four USB 2.0 ports and the 8x double-layer DVD+R/RW drive. Users can install their favorite Windows applications and tools to perform data analysis, post-processing, signal synthesis or any other operations important in the portable environment.

SystemFlow Software
Fully supported by Pentek's Model 4990 SystemFlow Instrument Software, the RTS 2721 features a Windows-based graphical user interface (GUI) that provides a simple means to configure and control the instrument. Virtual-instrument push buttons, status indicators, pull-down menus and data-parameter entry windows provide simple and intuitive operation for all functions, plus extended support for complex recording and playback modes. Custom configurations can be stored as profiles and later loaded when needed, allowing the user to select pre-configured instrumentation settings with a single click.

SystemFlow Signal Viewer
SystemFlow also includes a powerful signal viewing and analysis tool, so users can monitor signals both before and during a recording session. The SystemFlow Signal Viewer includes a virtual oscilloscope and a virtual spectrum analyzer for detailed signal analysis in both time and frequency domains.

Advanced signal analysis capabilities include automatic calculators for signal amplitude and frequency, second and third harmonic components, total harmonic distortion (THD) and signal to noise and distortion (SINAD). With time and frequency zoom, panning modes and dual annotated cursors to mark and measure points of interest, the SystemFlow Signal Viewer can often eliminate the need for a separate oscilloscope or spectrum analyzer in the field.

2.4 Terabytes of Disk Storage: No Data Loss
Packed into the RTS 2721 enclosure are 13 2.5-inch hard drives, one of which handles the operating system. The other 12 drives are configured as dual RAID arrays, dedicated exclusively for real-time recording and playback functions. This architecture guarantees no loss of data for sustained operation at the maximum rates and delivers a total storage capacity of 2.4 Terabytes. For example, this capacity supports continuous, real-time recording of a single 100 MHz A/D channel for three hours and 20 minutes.

Immediate Access to Recorded Data
Traditionally, companies tackle high-speed recording requirements by streaming data to disk using a proprietary file format. Unfortunately, this requires later conversion to a Windows or Linux file format, an operation often taking as much time as the original recording itself.

In the RTS 2721, Pentek records the data files directly to a native NTFS file system, which is fully compatible with every Windows file system and many Linux operating systems. This means users can access files immediately after recording, with no lengthy conversion processing. Since the RTS 2721 also accepts NTFS files directly for playback, users also benefit by eliminating a pre-processing file conversion.

Pricing and Availability
The price of the Model RTS 2721 Portable Signal Recording and Playback Instrument, including the Model 4990 SystemFlow Instrument Software, carrying bag, keyboard and mouse, is typically $59,995 depending on options. Delivery is 10 to 12 weeks ARO.

About Pentek
Pentek develops, manufactures and markets innovative DSP systems to original equipment manufacturers, distributors and value-added resellers. Pentek offers powerful VME, VXS, PMC, XMC, cPCI and PCI boards for data acquisition, software radio and digital signal processing featuring Texas Instruments C6000 DSPs, Freescale G4 PowerPCs and Xilinx FPGAs. Pentek's I/O includes A/Ds, D/As, FPGAs, digital up/downconverters and more. Pentek equips all products with high-performance I/O including Gigabit serial interfaces and offers strong DSP software support.

Pentek and SystemFlow are registered trademarks or trademarks of Pentek, Inc. Brand or product names are registered trademarks or trademarks of their respective holders.

For the release, photograph and data sheet, please visit:
http://www.pentek.com/whatsnew/ViewRelease.cfm?Index=108

North American Sales Contact: Mario Schiavone, Pentek, Inc., One Park Way, Upper Saddle River, NJ 07458-2311; Telephone 201-818-5900, ext. 770; Fax 201-818-5904; Email news@pentek.com. Website www.pentek.com.

International Sales Contacts: Elexo in France 0141 22 1023, VSystems Electronic GmbH in Germany at 892737630, VSystems s.r.l. in Italy at 119661319, VSystems AB in Sweden at 84441557, VSystems UK at 1494476000, Sela Electronic Systems in Israel at 36479969, MISH International in Japan at 425387650, Beijing BetaOne Sysjob Ltd. in China at 1082784106 and Acetronix Co. Ltd. in Korea at 24202343, ext. 106. Please visit www.pentek.com/contact/replist.pdf for a full list of international Pentek representatives and distributors.

More from Machinery & Machining Tools