Portable Pressure Washer safely dissolves ice dam buildup.
Press Release Summary: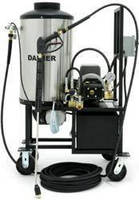 Mobile and trailer-mountable, Super Max™ 12800 offers 3 temperature settings and can be used as cold water pressure wash system, hot water pressure washer, or steam pressure cleaner. Heavy-duty schedule 80 heating coil changes cold water to hot water up to 200°F within 30 sec. Able to create steam temperatures to 330°F, machine generates pressure levels of 1,000 psi and flow rates of 2 gpm for effective removal of ice while preventing formation of more ice. Heating fuel capacity is 9 gal.
---
Original Press Release:

Daimer Unveils Pressure Washer for Ice Dam Removal Service Providers



WOBURN, MA, U.S.A – Daimer Industries, Inc.®, the globally popular brand of highly-versatile auto detailing machines, including top-ranked car wash equipment, heavy-duty vehicle cleaners, electric pressure washer and gas pressure washer systems, and other machines supplied to more than 240 countries worldwide, is proud to announce the launch of a powerful, mobile and portable yet trailer mountable steam pressure washer. The Super Max™ 12800 offers three temperature settings and can be used as cold water pressure wash system, hot water pressure washer, or steam pressure cleaner. The machine can create hot water temperatures up to 200ºF and steam temperatures as high as 330ºF, which can easily dissolve ice dam build-up.



"Ice dam removal from roofs is very important, as clogged gutters can result in water leakage into a house or office, stained ceilings, ruined paint, and damaged roof shingles. Ice dam removal service providers require machines that feature temperatures high enough to easily melt ice with the right pressure levels and flow rates," says Matthew Baratta, Daimer Industries, Inc.® spokesperson. "Daimer® is delighted to offer the Super Max™ 12800, which generates pressure levels of 1000 psi and flow rates of 2 gpm. Such flow rates are ideal to effectively remove ice and prevent the formation of more ice, unlike other suppliers' commercial hot water pressure washer machines that generate flow rates of nearly 5 gpm, and do more harm than good."



Daimer® is the famous supplier of steam cleaning machines, as the innovative technologies incorporated within its machines rise above the rest, and make the company the preferred choice among national and international customers. The company has experts that develop solutions for cleaning applications in most industries around the world. The completely American organization offers over 700 models of advanced cleaning systems that are shipped to hundreds of nations. Daimer® machines are durable, reliable, and offer high cleaning power for carrying out virtually any commercial cleaning task.



Commercial ice dam removal http://www.pressurewashersproviders.com/blog/2013/01/what-makes-a-steam-pressure-washer-perfect-for-gutter-ice-dam-cleaning/ jobs can vary in degrees, as sometimes a huge column of ice is formed on the side of the roof and other times an ice dam forms a giant blanket over the entire roof. Daimer®'s Super Max™ 12800 pressure washer comes with a heavy-duty schedule 80 heating coil that changes cold water to hot within only 30 seconds. The coils offer consistently excellent performance for years. The pressurized Super-Hot™ steam emitted from the machine dissolves these ice dams in no time.



All of the company's machines feature its Modular System Design™ (MDS™) and Self-Maintenance Engineering™ (SME™) technologies that allow its customers themselves to replace a part easily, whenever necessary, and wherever in the world they may reside. Simple maintenance and easily available parts are two very important aspects of its machines. Customers do not require any professional support for the replacement process.



The Super Max™ 12800 superior-quality electric powered pressure washer can be used for all tasks that require machines with moderate power, or machines that can operate as a trailer-mounted pressure washer. Ice dam removal service providers must travel to different locations and the 12800 is easily portable. The machine is powered by a 1.5 HP NEMA (electric) engine, and customers can configure it with either no.1 or no. 2 heating oil, diesel, or kerosene. The 110 volt top-quality industrial pressure washer machine http://www.pressurewashersequipment.com/blog/2012/07/what-makes-industrial-pressure-washing-machines-so-powerful/ has a heating fuel capacity of nine gallons for longer non-stop cleaning.



The smartly designed hot water pressure washer can be purchased with Daimer®'s Automatic-Shutoff Technology™ (AST™), which is offered as an optional feature. The technology automatically turns off the machine when not in use for 30+ seconds, and can be powered back on by pulling the trigger gun. AST™ is very useful when longer hoses up to 300 feet in length are used. The best pressure washer machines are equipped with the company's Long Hose Technology™ (LHT™) for generating optimum power even while using long hoses. Operators do not need to return to their vehicle to power the machine on or off.



The superior-grade commercial pressure washer comes in standard power configuration of 110V-120V, single phase, 60 Hz and optional power configurations of 110V-120V, single phase, 50 Hz; 220V-240V, single phase, 50 or 60 Hz; 220V-240V three phase, 50 or 60 Hz; & 440V, three phase, 50 or 60 Hz are also available. The machine is bundled with accessories, such as a durable 3' trigger wand with quick disconnect, 50' high pressure steam hose, and 0º (blast), 15º, 25º, 40º, steam nozzles.



For Additional Information:

In order to obtain further details about the Super Max™ 12800, call Matthew Baratta at (888) 507-2220 or visit the company's website http://www.daimer.com/pressure-washers/ . The systems are shipped to many nations across the globe.



About Daimer Industries, Inc.®:

Daimer Industries, Inc.® is the most renowned brand and supplier of technologically-superior cleaning machines, such as powerful mobile car wash equipment, gas pressure washer systems, vapor steam cleaners, steam vacuum cleaners, carpet steam cleaners, gum removal systems, auto detailing machines, hard surface cleaners, and more.



Blog: http://pressure-washer-usa.blogspot.com/



http://www.daimer.com/news/pressview/271-year.2013_271-id.704644357.html

Related