Portable Oscilloscope serves medical imaging systems.
Press Release Summary: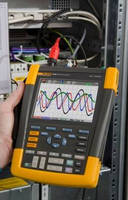 Presenting data in formats optimized for readability, 190M Medical ScopeMeter® aids in troubleshooting medical imaging equipment to facilitate hospital-complex computer testing. Handheld oscilloscope combines capabilities of digital multimeter with performance of bench oscilloscope and digital data storage/analysis of paperless recorder. Designed for imaging and power quality assessment, features help users diagnose problems such as intermittent events, signal fluctuations, and drift.
---
Original Press Release:

Fluke Biomedical Launches Lightweight 190M Medical ScopeMeter® Portable Oscilloscope



EVERETT, Wash. -- Fluke Biomedical, a global provider of medical device test and safety equipment, announced today the debut of its new 190M Medical ScopeMeter Portable Oscilloscope. Designed to take the guesswork out of troubleshooting medical imaging equipment, the multifunctional 190M presents complicated data in simple-to-read formats to make hospital-complex computer testing easy.



"Avoiding one unnecessary board change or even half a day of downtime saves a facility more dollars than the entire cost of a 190M," explains Hongbo Chen, Product Manager for Fluke Biomedical. "To minimize downtime and repair costs, you need to get to the root cause of problems as quickly as possible. The 190M Medical ScopeMeter test tool offers a number of unique features that help you quickly set up the scope and diagnose difficult problems like intermittent events, signal fluctuations or drift. Troubleshooting is easier with the 190M."



Imaging equipment today uses advanced, interrelated technologies such as digital networking and video. In turn, this equipment needs equally sophisticated test equipment to ensure proper functionality and patient safety. With the 190M Medical ScopeMeter handheld oscilloscope, the complicated data analysis required to test imaging equipment is simple to learn, easy to use and quick to complete. It combines the capabilities of a digital multimeter with the performance of a bench oscilloscope and digital data storage/analysis of a paperless recorder so a field technician can quickly identify true root cause in complex problems. Designed for equipment imaging and power quality troubleshooting, the 190M measures short-duration pulses, time-based signals, 3-phase power measurements, and transient and electrical noise systems. High-resolution waveform analysis makes visual performance inspection fast and easy, while ideal waveform overlays allow for immediate pass/fail analysis of machine performance. The ability to record signals over time captures defects not visible to simple multimeters, and thanks to the record function the 190M can be set to record when the machine is on.



For more information on the new 190M Medical ScopeMeter portable oscilloscope, and product demonstration/training materials, visit www.flukebiomedical.com/twosteps.



About Fluke Biomedical

Fluke Biomedical is the premiere, global provider of test and measurement equipment and services to the healthcare industry.  We strive to be the best at delivering innovative solutions to improve quality of global health.  We serve biomedical engineers, quality-assurance technicians, medical physicists, oncologists and radiation-safety professionals and are continually expanding our range of solutions to a broader range of health and safety professionals.  For more information on Fluke Biomedical, visit www.flukebiomedical.com.



For More Information

Shannon Deveny

Marketing Communications Manager

(425) 446-6064

shannon.deveny@flukebiomedical.com

More from Electrical Equipment & Systems