Portable Optical Variable Attenuator Equipped with FC and PC Optical Connector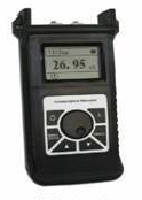 Toronto, Canada - GAO Instruments (www.GAOInstruments.com) recommends its handheld optical variable attenuator which is used with single-mode fiber for continuously variable optical signal attenuation. Featuring a rugged design, portability and ease of use, the attenuator is widely used in fiber link certification and routine maintenance.



This variable attenuator, model C0270001, can be used in digital system communication devices such as PHD and SDH and also in analog modulation CATV systems. Other common applications for the attenuator include telecom maintenance, CATV maintenance, comprehensive cable construction systems, optical instruments research and development and optical communication training.



This portable optical variable attenuator combines the functions of both an attenuator and an optical power meter. It memorizes the attenuating value and step on shut down and restores the values on next power up. It displays absolute and relative attenuation value as well as wavelength, input power, output power, current attenuation and selected step size. In addition, its auto-off function deactivates after 10 minutes of idle time.



This attenuator belongs to GAO's family of Fiber Optic Instruments. This line also includes Handheld Optical Power Meter which is specially used in the test of LAN, WAN, metropolitan, CATV and other long-distance fiber networks; Handheld Fiber Optic OTDR which is an innovative test instrument for telecommunication networks specially designed for fiber network construction and maintenance in FTTx, WAN and CATV systems; and Multi-Function Optical Talk Sets which can carry out full-duplex communication with a high quality connection over an exceptional communication distance.



For sales inquiries please contact:

1-877 585-9555 ext. 601 - Toll Free (USA & Canada)

1-416 292-0038 ext. 601 - All Other Areas

sales@gaoinstruments.com



About GAO Instruments

GAO Instruments (www.GAOInstruments.com) is an international leading supplier of portable testing instruments and equipment for telecom, fiber, oscilloscope, electronic.



More from Sensors, Monitors & Transducers