Portable Oil Transfer System features customizable design.
Press Release Summary: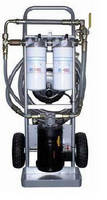 Suitable for plant or field, Portable Filter and Oil Transfer System offers 110 or 115 Vac operation and pump/motor combinations ranging from 1.5 gpm pump/1 hp electric motor to 20 gpm pump/1.5 hp electric motor. Drain connector on suction side can be provided with flush face, ISO A, ISO B, wand, or threaded end connections in ½, ¾, or 1 in. NPT. Available with 3, 6, 12, or 25 micron filters, system is suited for fluid conditioning, removal of water from oil, and fluid transfer from drums.
---
Original Press Release:

Flow Ezy Filters-Filter Cart Portable Filter and Oil Transfer System



Flow Ezy's new portable oil transfer system has many uses in the plant and in the field. The unit is available with a number of options, so can customize the portable oil transfer system to fit your specific use.

This oil handling system incorporates smart technology to make oil handling a simple task. It requires less equipment and labor while reducing system contamination.

Our filter cart can be used for:

o Fluid transfer from drums or storage tanks to a system reservoir.

o Fluid conditioning

o Filtering out system oil resulting from failure of a system component

o Removal of water from oil (with optional water removal filter)

o Clean up contaminated oils

SPECIAL NOTICE TO DISTRIBUTORS

Are you looking for additional ways to increase revenue? Are you looking for additional ways to service your customer? One way to accomplish this is to have a Flow Ezy Portable Filter and Oil Transfer System on hand. Along with your customer, develop a maintenance schedule where on a regular basis you go in and clean their systems. Your customer may have such a busy operation that keeping their fluids and filters maintained properly is something that may not be thought of, or not their expertise. That is where you come in. By servicing your customer you gain additional revenue AND credibility. The money invested in the Portable Filter and Oil Transfer System would soon be an additional value for both you and your customer.

The Portable Filter and Oil Transfer System is customized to meet your needs. Here is what you can expect when making the determination of your exact needs.

o Voltage selection of 110 or 115 VAC

o Pump and motor combination. From a 1.5 gpm pump w/ 1 hp electric motor to a 20
gpm pump w/ 1.5 hp electric motor. Also, pump/motor combination for air use.

o The drain connector on the suction side can be provided with flush face, ISO A, ISO
B, wand, or threaded end connections in 1/2", 3/4", or 1" npt.

o The fill connector on the pressure side can be provided with the same options.

o Filter A (first filter in series) is available in 3, 6, 12, or 25 micron or a water removal filter.

o Filter B (second filter in series) is available with same options.

o You may elect to have a filter bypass or no filter bypass.

o You may elect to have sample oil ports in order to take an oil sample.

o You may elect to have a 25' cord reel or no cord reel.

o You may elect to have a system relief valve (65 psi) or no relief valve.

o The color of your filter cart can be either brushed aluminum, black, white, blue, red, or yellow to indicate different fluids.

Flow Ezy Filters, Inc, P.O. Box 1749, Ann Arbor, MI, USA 48106
phone (734) 665-8777 or (800) 237-1165 / fax (734) 665-4332 or (800) 252-1730
web site: www.flowezyfilters.com corporate e-mail: flowezy@flowezyfilters.com

More from Transportation Industry Products