Global Positioning Systems (GPS)
Portable Navigation Device operates up to 6 hr at full power.
Press Release Summary: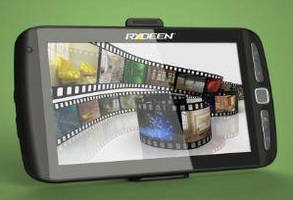 With Marvell® ARMADA(TM) 166 application processor and Android(TM) OS, GCOM701 enhances user experience via rich multimedia, seamless connectivity, and real-time content. Integral 7 in., 800 x 480 pixel TFT touch panel offers ample screen space for Web browsing, reading eBooks, as well as viewing images and video, while built-in Wi-Fi, GPS, and Bluetooth foster connectivity. Removable memory, front-facing camera, and connectivity for jump drives and other portable devices further enhance functionality.
---
Original Press Release:

Marvell and Rydeen Announce New Portable Navigation Device



Rydeen GCOM701 to Drive New Applications and Services in Portable Navigation Market

SANTA CLARA, Calif. -- Marvell (NASDAQ:MRVL), a worldwide leader in integrated silicon solutions, and Rydeen Mobile Electronics, a global car navigation and safety systems leader, today announced the introduction of Rydeen GCOM701, utilizing the Android(TM) operating system. Powered by the Marvell® ARMADA(TM) 166 application processor, the GCOM701 provides a rich multimedia experience and delivers seamless connectivity, real-time content and an extended battery life. The GCOM701 is expected to ship this November and will be available in two colors, black and white.

"Consumers today expect their personal mobile connected devices to combine seamless connectivity, broad business functionality, a diverse communications suite and an enthralling multimedia experience in a convenient and elegant form factor," said Weili Dai, Marvell's Co-founder and Vice President and General Manager of the Consumer and Computing Business Unit of Marvell Semiconductor, Inc. "Rydeen's GCOM701 leverages Marvell's total silicon solution platform to deliver a robust set of capabilities for today's always-on lifestyle that also helps people get where they need to go easily and safely."

With a 7-inch TFT touch panel and 800x480-pixel resolution, GCOM701 offers ample screen space for Web surfing, reading eBooks and viewing images and video. Other device features include: built-in Wi-Fi and GPS, Bluetooth capability, removable memory, a front-facing camera and easy connectivity for jump drives and other portable devices. On the road, the GCOM701 functions as a portable navigation device -- complete with four million points of interest -- powered by Navteq(TM). An internal 7.4-volt battery delivers ample standby power and up to six hours of operational time at full power mode.

"Rydeen is committed to providing unparalleled performance and multimedia functionality that connected consumers will find very attractive," said Phil Maeda, President of Rydeen. "By integrating Marvell's ARMADA application processor technology into Rydeen's new portable navigation device, we are now able to create a compelling navigational experience unmatched in the industry."

About Marvell

Marvell is a world leader in the development of storage, communications, and consumer silicon solutions. Marvell's diverse product portfolio includes switching, transceiver, communications controller, wireless, and storage solutions that power the entire communications infrastructure including enterprise, metro, home, and storage networking. As used in this release, the term "Marvell" refers to Marvell Technology Group Ltd. and its subsidiaries. For more information, visit http://www.marvell.com/.

About Rydeen

Rydeen North America, Inc. (dba Rydeen Mobile Electronics), melds the best of today's technology into smart, practical devices that are easy to use, and makes them available to consumers at an affordable price. Headquartered in Torrance, Calif., with a local staff that lives and breathes consumer electronics, we create unique products focused on driver safety, convenience and lifestyle enhancement. For more information, visit our Website at www.rydeenmobile.com.

Marvell and the M logo are registered trademarks of Marvell and/or its affiliates. ARMADA is a trademark of Marvell and/or its affiliates. Other names and brands may be claimed as the property of others.


More from Electronic Components & Devices