Portable Military Workstation withstands hostile environments.
Press Release Summary: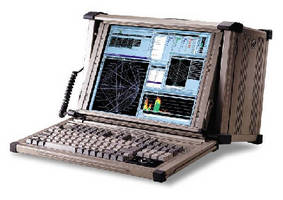 With open architecture and expandable I/O slots, TransPAC-6300(TM) is suited for changing or growing test and measurement needs. Unit is available with 24 Vdc or 48 Vdc power supply option, and wireless data modem capable of 40 mile range in 900 MHz ISM band. Featuring 15 or 17 in. LCD integrated monitor, base system comes with up to 16 SE or 8 differential channels, 12/16-bit resolution, upgradeable to 128 channels. Workstation supports up to 256-bit DES encryption and decryption.
---
Original Press Release:

Cepoint Networks, LLC Ships Portable Military Workstation



Cepoint Networks, LLC is now shipping its TransPAC-6300(TM), a ruggedized portable military workstation for demanding applications in extreme hostile environments. Designed for portability, quick, fast, and easy deployment in the harshest environments during mission-critical operations, The TransPAC-6300 is an ideal platform for fast, reliable and durable data retention and operation in hostile military, industrial and networking environments where performance, speed, agility, reliability and durability are essential for real-time operations.

According to Cepoint spokesperson Rock Romeo "TransPAC-6300's self calibrating features makes it ideal for vibration, pressure and strain measurements; analog stimulus response; and acoustical testing in applications including audio analysis, production testing, burn-in testing. And it supports TestPoint & LabView driver options," concluded Romeo.

TransPAC-6300's customizable applications include image acquisition and analysis, on the move radar acquisition and analysis, video conferencing, homeland security and surveillance applications that require transportability. Its fast streaming analog, and digital I/O devices support video or image acquisition and analysis or processing in applications including biometrics, video surveillance and other security or field data acquisition applications.

Factory Customizable, Field Configurable

TransPAC-6300's open architecture and expandable I/O slots makes it ideal for changing or growing test and measurements needs, and it is available with 24V DC or 48V DC power supply option and wireless data modem capable of 40 mile range in 900-MHz ISM band. It is well suited to security and military field use under different mission requirements, supporting up to 256-bit DES encryption and decryption, and factory customizable for various field data acquisition in hostile or harsh environments. Featuring a 15" or 17" TFT LCD integrated monitor, the base system comes with up to 16 SE or 8 differential channels, 12/16-bit resolution, upgradeable to 128 channels and a wide gain range processed with an adjustable resolution quality as determined by system components and user settings. Additionally, the TransPAC-6300 supports field expandable PCI, PCI express, or legacy ISA BUS slots, optional flash solid state disk and 3GHZ Intel, 24GB memory capacity and storage capacity of up 12TB with optional removable drives.

About Cepoint Networks

Cepoint Networks is a systems integration and consulting firm. The company's products and services include rugged portable computers for avionics, transportation, field data acquisition, laboratory, military, telecommunications and industrial applications, as well as embedded rugged PC-based systems for data acquisition or data logging. Cepoint also integrates video surveillance, telephony, image processing, and security systems. Other services available include consulting and integration services for commercial RF-Microwave and satellite systems project. For more information visit the company's website www.cepoint.net or contact the company at salesmanager@cepoint.net, telephone (603) 883-7979

More from Computer Hardware & Peripherals