Portable MIG Welder features multi-process capabilities.
Press Release Summary: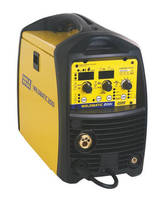 In addition to letting users choose between shielding gas or gasless (flux-cored) wires, 13 kg Weldmatic 200i offers flexibility via MIG (200 A), stick (170 A), and TIG welding capabilities. Single-phase unit, also offering 200 A of Lift-Arc capability, has industrial-grade components, including tradesman quality gun and cable with euro connector. Control panel aids selection of gas and wire type, while built-in VRD and 240 V power source with thermal protection device promote safety.
---
Original Press Release:

Highly Portable MIG Welder Offers Multi-Process Capabilities



WIA (Welding Industries of Australia), one of Australia's leading welding supply companies, has announced the release of the exciting new Weldmatic 200i MIG welder, which also offers stick and TIG welding capabilities.



Versatile and portable, the Weldmatic 200i weighs just 13kg making it suitable for onsite maintenance, plus the impressive machine offers the user flexibility in welding processes.



Willem Corbett, Development Engineer – Equipment with WIA, says this is a versatile and portable MIG welding machine, which can be used in many different types of applications.



"For maintenance teams who are never sure what the next job will involve, the lightweight Weldmatic 200i MIG welder can also TIG weld or stick weld as required, plus it offers the portability and reliability of a high quality machine," Mr Corbett said.



Able to operate with or without shielding gas, the Weldmatic 200i MIG welder suits both gas shielded and gasless flux cored wires.



Users are able to choose between using a shielding gas or the gasless (flux-cored) wires, meaning there is no need for the user to have a shielding gas bottle; reducing both cost and weight.



Easy to set-up and adjust, the Weldmatic 200i's control panel allows for the easy selection of gas and wire type, with infinitely variable voltage and wire speed, indicated on the digital display.



Even for first time users, a suggested setting chart allows the Weldmatic 200i to be set-up quickly and easily.



With 200 Amps of MIG, 170 Amps of Stick and 200 Amps of Lift-Arc capability, the single phase, multi-process Weldmatic 200i suits a wide range of applications for successfully welding mild steel or aluminium to a very high professional quality.



The machine is suitable for use in a wide range of industries, including fencing, mining and manufacturing maintenance, building and construction industries, contractors and rural workshops through to the DIY user.



With safety a very important issue for WIA, the Weldmatic 200i features a built in VRD (Voltage Reduction Device), which delivers added safety when operating in Stick or Lift-TIG mode, and meets the requirements of site work to AS1674.2 CAT C.



For additional operator safety, the machine's 240 Volt power source features a built-in thermal protection device that will operate and disable the machine if operated beyond its safe thermal operating zone. The machine is also fully compliant to Australian Standards AS 60974.1 and AS1674.2 CAT C.



The Weldmatic 200i comes with industrial grade components, including a tradesman quality gun and cable complete with euro connector for easy fitting and removal.



The total package includes a 3m euro gun cable, a 3m work lead, a twist lock electrode holder, a gas regulator, two drive rollers: a 0.6/0.8mm "V" groove and a 0.9/1.2mm, knurled (gasless), 0.6/0.8/0.9/1.2 tips and ES6 sample wire 0.8mm, plus there are two optional gas bottle trolleys available.



Mr Corbett said the Weldmatic 200i is a robust quality product, and is designed, with all its components, to last the user many, many years, whether they are a professional or a DIY welder.



"WIA welding machines are renowned for it. With the Weldmatic 200i, people can be guaranteed they're buying reliability and performance," Mr Corbett concluded.



The Weldmatic 200i comes standard with a 2-year unlimited warranty on the power source, covering parts and labour, and is supported by an Australia wide service network.



Specifications of the Weldmatic 200i are:

Primary Voltage - 240 Vac – 50/60 Hz

Rated Primary Current - 14 Amps

Max. Primary Current - 36 Amps

Recommended Generator - 10kVA

Supply Plug – 15 Amps

Rated output @ 40degC (10 min): (MIG)

- 200 Amps @ 24 volts 15%

- 77 Amps @ 17.9 volts 100%

Welding current range 30 – 200 Amps

Wire size range (mm):

- 0.6 - 0.9 solid

- 0.8 - 1.2 cored

- 1.0 aluminium



For more information on the Weldmatic range, contact WIA's Customer Service Team on 1300 300 884 or visit www.welding.com.au.

More from Mechanical Components and Assemblies