Portable Microscope shares wirelessly with tablets and phones.
Press Release Summary: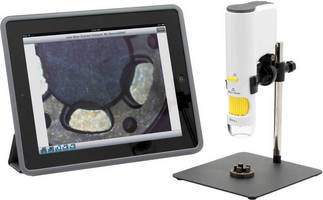 Employing ¼ in. color CMOS sensor and active pixel technology, handheld Mighty Scope Connect can simultaneously display magnified still images and 15 fps video on 3 tablets or smart phones via downloadable Wi-viewer app. Battery-powered solution serves as Wi-Fi hotspot with ~30 ft range, allowing joint use for scientific or forensic field work at any location. Magnification is adjustable up to 80x, depending on screen size, and 6 white LEDs provide controllable lighting.
---
Original Press Release:

Aven's New Mighty Scope Connect Shares Wirelessly with Tablets and Phones



ANN ARBOR, MI – Aven, Inc. brings wireless networking to portable microscopy with the advanced Mighty Scope Connect. This handheld scope can display magnified images and video on three tablets or smart phones simultaneously, a breakthrough for medical offices, engineering teams, research collaborators, educators and others working in groups.



By serving as a wi-fi "hotspot" with a range of about 30 feet, the innovative Mighty Scope Connect eliminates the need for an Internet connection or wireless network access. This allows joint use for scientific or forensic field work at any location. Health care professionals can easily capture diagnostic close-ups to share in real time or later with colleagues, patients and family members on their iPads, iPhones or Android tablets and phones.



"The popular Mighty Scope is upgraded into the wi-fi age," says Mike Shahpurwala, president of Aven. "This is our first microscope able to transmit live images to screens on three devices without needing anything except a free app."



In addition to applications in industrial inspection, lab work and medical settings, the scope lets instructors share still or video images with students. The battery-powered Mighty Scope Connect has adjustable magnification up to 80x, depending on screen size, and controllable lighting from six white LEDs.



It's compatible with Android devices (2.3 and higher) and Apple iOS tablets and phones (4.1 and newer). A Wi-viewer app can be downloaded without cost. As with earlier-generation Mighty Scopes, a high-quality lens assures undistorted images. A ¼ in. color CMOS sensor and active pixel technology produce crisp images with true color values. Video is recorded at 15 frames per second. Gain control and white balance are automatic.



The new model, which is six inches long, comes with an adjustable stand, three rechargeable nickel-metal hydride batteries and a charger. Optional accessories include two polarizers and three specialized stands – flexible, boom or dual-view.



For more information, call Aven at (734) 973-0099. A digital catalog is at www.aventools.com/sales-info.html . 



Visit Aven at Booth 3149 of the IPC APEX Expo for electronics manufacturers at the San Diego Convention Center from Feb. 19-21, 2013.



Aven, Inc. manufactures and distributes high-performance optical instruments and precision tools for microscopy, inspection and assembly. More than 800 products include video inspection systems, integrated portable microscopes, video borescopes, task lights and stainless steel tools for lab use and precision hand tools such as tweezers, pliers, cutters, screwdrivers, crimpers, knives and alignment tools. Brands include Mighty Scope, iLoupe, Technik and Accu-Tek.



An electronics innovator since 1983, Aven is located in a high-tech corridor of Southeast Michigan.

More from Test & Measurement