Portable Metal Analyzer identifies alloys in seconds.
Press Release Summary: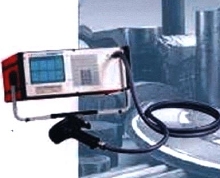 SpectroPORTCCD (Charge Coupled Device) brings laboratory precision and repeatability into field applications. Analyzer is designed for on-site metals analysis, and is suitable for safety monitoring and metal alloy sorting. It is available with dual-arc/spark excitation source and runs in several operating modes. SpectroPORTCCD analyzer can be supplied with durable fold-down cart that includes argon bottle holder.
---
Original Press Release:

Portable Analyzer Brings High-Performance Metals Analysis into the Field


Compact Arc/Spark Analysis is an ideal solution for metallurgical laboratories, manufacturing plants, and petrochemical facilities.

Fitchburg, MA - May 6, 2002 - SPECTRO Analytical Instruments, a leading supplier of analytical instruments and systems for the metals industry, has introduced a portable metals analyzer that brings the precision and repeatability of more expensive laboratory systems directly into the field. The company's SpectroPORTCCD analyzer is designed specifically for on-site metals analysis. It is ideal for applications such as safety monitoring and metal alloy sorting.

The latest SpectroPORTCCD (Charge Coupled Device) technology enables a wider range of applications than previous transportable analyzers. It is available with a dual arc/spark excitation source and can run in several operating modes. For example, when using arc excitation the unit's "sort" mode allows fast verification of all pieces in a batch and has the capability to prevent possible product mix-ups. In the positive metals identification mode, it can identify alloys within a few seconds. While using spark excitation, the unit can be used for high precision elemental analysis approaching laboratory results. The unit's CCD optical system enhances detection of virtually the entire spectrum for which the instrument was designed. Carbon, phosphorous and sulfur analysis can be performed using an UV-probe accessory.

In order to facilitate use in difficult environments such as foundries, metal grading and metal manufacturing companies, SpectroPORTCCD analyzers can be supplied with a durable fold-down cart that includes a holder for an argon bottle. The entire unit is easily transportable in order to accommodate the need for frequent location changes.

Founded in 1979, SPECTRO Analytical Instruments is recognized worldwide as a technological leader in Arc/Spark, Glow Discharge, X-ray Fluorescence, and Inductively Coupled Plasma (ICP and ICP-MS) Spectrometry. For more information on SpectroPORTCCD analyzers, write to SPECTRO Analytical Instruments, 160 Authority Drive, Fitchburg, MA -01420; call (978) 342-3400, or 800-548-5809; or visit our web site at www.spectro-ai.com


More from Electronic Components & Devices