Portable Magnetic Drill has coolant bottle package.
Press Release Summary: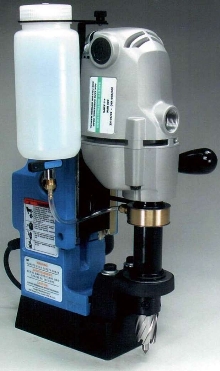 Suited for repetitive hole drilling, HMD904 is offered with package that ensures adequate levels of coolant are continuously delivered to tool's cutting edge. Drill also incorporates LED indicator with circuitry that monitors critical magnet lift/shift sensor and switch, changing from green to red if unsafe condition exists. Powered by 7.2 A, 450 rpm motor, tool uses 12,000-Series Rotabroach® Annular Cutters for burr-free holes up to 1½ in. dia and 2 in. deep.
---
Original Press Release:

Coolant Bottle Package Boosts Magnetic Drill's Productivity


Hougen Manufacturing (Flint, MI) has introduced a new coolant bottle package, available as an accessory for its Model HMD904 portable magnetic drill. Ideal for use in applications involving repetitive hole drilling, the new system assures that adequate levels of coolant are continuously delivered to where it's needed most...the tool's cutting edge. This in turn can dramatically extend the life of cutting tools, improve work surface finishes, help stabilize hole dimensions, reduce downtime for tool changes, all of which contribute to significantly lower costs per hole and increased productivity. The easy to install coolant package is offered complete with coolant bottle, mounting bracket, hose, a coolant inducer arbor, and full installation instructions.

The HMD904 drill, a versatile workhorse well suited for general purpose maintenance and fabrication holemaking. It is lightweight (27.5 lb.) and compact, yet can be used to drill holes up to 1-1/2" diameter and to 2" depths. The drill features a 120V, 8 amp, 960 Watt, 50/60 electrical system with a 7.2 amp, 450 RPM motor. The magnetic base provides a dead lift rating of up to 1742 lbs. on 1" thick plate, 1014 lbs. on 3/8" thick material. The drill point breakaway is tested at 820 lbs. and 680 lbs. for 1" and 3/8" plate.

The HMD904 also incorporates a new feature-an LED indicator with circuitry that monitors the drills' critical magnet lift/shift sensor and switch. The LED provides an instantaneous alert to the operator, switching color from green to red if an unsafe condition exists involving the sensor, one that should be corrected prior to further use.

The HMD904 uses Hougen's "12,000-Series" Rotabroach® Annular Cutters, the tools that cut round, burr-free holes from 50 to 80% faster than with twist drills - with longer tool life. Because they are hollow and have Hougen's unique and time-proven tooth geometry, the "12,000-Series" Cutters typically require less horsepower and torque than traditional holemaking tools, thus providing the larger hole capacity for the lightweight portable drill.

In addition to the HMD904 unit, Hougen products comprise 14 other models of portable magnetic drills, with hole capacities to 3-1/16" diameter and 3" depth of cut, Punch-Pro(TM) Portable Electro-hydraulic Hole Punchers, plus a wide range of annular cutter series for a variety of applications, including sheet metal and tubing - for portable fabricating equipment as well as stationary machine tools.

More from Computer Hardware & Peripherals