Portable Lunchbox Computer includes full keyboard.
Press Release Summary: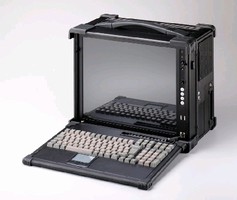 Built around shock-resistant, aluminum, lunchbox-style case, Model EMP 370 features 17 in. non-glare screen, detachable 108-key keyboard, and 7 open card slots. It provides dual cooling fans, two 5.25 in. bays, and two 3.5 in. bays. Genesis 5621 analog-to-digital conversion board is mated to ATX backboard. Measuring 13½ x 17 x 9.5 in., computer is suitable for geophysical data acquisition, forensic work, factory floor, and fire and medical emergency applications.
---
Original Press Release:
ACME Introduces 17-inch Rugged Lunchbox Computer with Full Keyboard and Room to Grow
AZUSA, Calif. (July 20, 2006) - ACME Portable Machines, Inc., a leading provider of rugged portable computers, today announced the immediate availability of their EMP 370, a large-scale rugged portable computer with a 17-inch non-glare screen, detachable 108-key keyboard and seven open card slots. The EMP 370 is built around a shock-resistant aluminum "lunchbox" style case that is the essence of user functionality. In addition to its large keyboard and screen, the system provides dual cooling fans, two 5.25in and two 3.5in bays for shock-isolated disks, CD or DVD drives, and space for seven full-length PCI, ISA, or PCI/ISA expansion cards. A Genesis 5621 analog-to-digital conversion board is already included, mated to the ATX backboard. A 10-key pad and fingertip mousepad are part of the package. Overall dimensions are just 13 1/2 x 17 x 9.5 inches. The EMP 370 is designed for those field service applications where laptop computers are not flexible enough to do the job. These include geophysical data acquisition, law enforcement forensic (CSI) work, factory floor, forest service, and fire and medical emergency applications, among others where performance and ruggedness are equally important. An amplified speaker is included for in-field presentations. The standard 17-inch screen comes with tempered anti-glare glass but can be replaced with an optional transflective sunlight-readable LCD for making presentations in bright daylight. Price And Availability Available off-the-shelf or in user-specified configurations in as little as 24 hours, the EMP 370 is priced as low as $3,799 in single unit quantities with significant OEM and ODM discounts available. Full product specifications can be found at www.acmeportable.com. About ACME Portable Machines, Inc. With worldwide headquarters located outside of Los Angeles in Azusa, California, ACME Portable Machines, Inc. was founded in 1994, to meet the computing needs of extreme environments whether they are in aerospace, at a crime scene location or on an industrial manufacturing plant floor. The company manufactures a broad line of hardy computers and workstations, portable laptop computers also known as lunchbox portables, all-weather keyboards, rackmount displays and keyboards and small and large flat panel displays/kiosks. All products are designed for integration with upcoming new technologies offering systems that mean more than just a tool on the road but an investment into the future. ACME portables have been real life tested and proven effective in meeting the most demanding environments and excel in critical applications such as data acquisition, analyzing LAN/WAN and telecommunication signals, industrial and manufacturing, medical field for diagnostics, onboard and flight line aerospace applications and just plain computing. Outside of the United States, the company supports its customers and OEM/ODM partners through direct subsidiaries in Europe and Asia and trained distributors worldwide. For additional information on ACME Portable Machines, Inc. and its products, customers can contact the sales department at 1330 Mountain View Circle, Azusa, CA 91702 - phone 626.610.1888 - fax 626.610.1881 - e-mail at sales@acmeportable.com. The company is on the World Wide Web at www.acmeportable.com. Customer Contact: Sales Department ACME Portable Machines, Inc. 626.610.1888 sales@acmeportable.com
More from Mechanical Power Transmission