Portable Light Towers feature light sequence system.
Press Release Summary: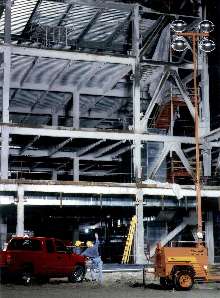 Model LSC100 Light Sequence Commander utilizes preset photocell sensor, which allows light tower to be automatically turned on and off as needed, without human interaction. At dusk, sensor engages power unit and activates lights. In morning, sensor automatically switches off light and power unit. Low fuel level shutdown helps protect generator from damage by automatically shutting down unit when available fuel reaches 10% of capacity.
---
Original Press Release:
Allmand Introduces Automatic Lighting Sequence System for Light Tower Product Line
HOLDREGE, Neb. - Allmand Bros. introduces the LSC100 Light Sequence Commander - the industry's first automatic lighting sequence and command control system. Available with all of Allmand's portable light towers, the LSC100 is a highly efficient, easy-to-use option that can save significant labor time and operational costs. Utilizing a preset photocell sensor, the LSC100 allows the light tower to be automatically turned on and off as needed, without human interaction. At dusk, when natural light is reduced, the sensor engages the power unit and then activates the lights. As light increases in the morning, the sensor automatically switches off the light and power unit. The LSC100 eliminates the need to micromanage multiple light towers at different locations and reduces excessive engine wear and wasteful fuel consumption. The LSC100's sequenced light control ensures that the engine is started before lights are turned on and shut down after lights are turned off. This prevents possible generator damage that can occur if the unit is powered down under load. A low fuel level shutdown additionally helps protect the generator from damage by automatically shutting down the unit when available fuel reaches 10-percent of capacity. Upon refueling, the engine will not require bleeding - eliminating possible engine damage due to over-cranking. To handle varying ambient temperature conditions, the LSC100 includes Smart Start circuitry. Controlling all necessary starting procedures, the circuit senses engine water temperature and determines the glow-plug time requirement and schedules repeat intervals, if necessary, to start the diesel engine. If the light malfunctions during operation, the diagnostic LED fault protection indicates if the machine has been shut down due to low oil pressure, high water temperature, low fuel or if the engine failed to start during the automatic start sequence. Optional features for the LSC100 include an eight-event digital timer and a wireless modem module. Added to the standard module, the digital timer enables the operator to preset different activation and deactivation times each day - allowing up to eight separate sequences daily. The wireless modem module offers the ability to control and monitor one or multiple light towers from a central, remote location. Allmand Bros. Inc. is a leading manufacturer of Allmand portable light towers, Allmand compact loader backhoes, Allmand Port-A-Lite(TM) light stands, Allmand solar arrowboards, Allmand job site heaters, Allmand message boards and Alimand EZ Breaker concrete breakers. For more information, contact Allmand Bros. Inc., P.O. Box 888, Holdrege, NE, 68949, call 800-562-1373, fax 308-995-5887, e-mail info@allmand.com or visit the company's Web site at www.allmand.com.
More from Architectural & Civil Engineering Products