Portable LED Drop Light produces 2,160 lumnens.
Press Release Summary: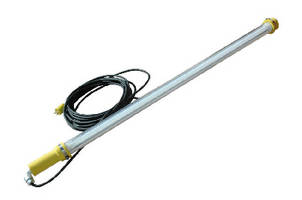 Measuring 5 ft long, 24 Watt FTL-5-LED-50-HD Heavy Duty LED Drop Light offers portable alternative to incandescent and fluorescent lights. Housing is water- and weather-resistant, allowing use in bad weather and damp locations. With no glass in construction, light is also suitable for food service applications. Unit works with standard 110–277 Vac current and is fitted with 50 ft of cord. With rubberized covers, handle and end cap offer impact resistance and non-conductive surfaces.
---
Original Press Release:

Larson Electronics Announces Release of 2,160 Lumen LED Drop Light



Larson Electronics announced today the release of a powerful LED drop light designed to provide full power illumination in a portable package. Producing over 2,000 lumens and ruggedly constructed, the FTL-5-LED-50-HD Heavy Duty LED Drop Light provides operators with a powerful yet portable lighting system suitable for a wide range of applications including utilities and industrial operations as well as the food service industry where a food safe design is required.



The Larson Electronics FTL-5-LED-50-HD 24 watt LED Drop Light provides a powerful and portable LED alternative to incandescent and fluorescent drop lights that produces more light with less heat without sacrificing durability or portability. Built to take demanding conditions in stride, this LED work light features an aluminum body for high strength and light weight and an LED lamp assembly for high output and long operating life. The LED lamp in this portable work light produces 2,160 lumens of power illumination with even distribution and side spread without any of the high heat or fragility of incandescent of fluorescent lamps. The long 5 foot length allows this light to be used in a wider variety of applications than smaller lights without being cumbersome or difficult to handle. Although long and thus capable of providing the same output as fixed single lamp fixture, this light is fully portable and can be used as a drop light for temporary illumination in utilities or service operations, or hung overhead to provide illumination for larger areas where standard fixtures are unavailable. The LED lamp is very durable and resistant to the effects of dropping or vibration, and produces a strong field of illumination that is very even and sharp, making this unit ideal for work that requires attention to detail. The housing is water and weather resistant, allowing operators to utilize the unit in locations where dampness or bad weather can be an issue. There is no glass in the construction, also making this LED drop light a good choice for food service applications where a food safe lamp is required. This lamp works with standard 110-277 VAC current, and Larson Electronics has fitted the FTL-5-LED-50-HD with 50 feet of cord and a straight blade plug to provide ample length for moving around larger workspaces. They've also added further durability by fitting a 90 degree elbow cord fitting with steel cord clamp to the base, allowing the lamp to be stood on end without any potential to cause fraying or damage to the cord from bending or contact with rough floor surfaces. The handle and end cap are fitted with rubberized covers, providing added impact resistance and non-conductive surfaces that provide a secure grip and prevent dangerous situations should the lamp be used near exposed electrical wiring or energized devices. This LED trouble light is ideal for just about any industrial or commercial application where a powerful and rugged portable lamp is needed and is ideal for utilities, construction, manufacturing and emergency services applications that demand durability and reliability from portable illumination.



"The FTL-5-LED-50-HD LED trouble light solves a problem for operators that don't have anywhere to hang the light," declared Rob Bresnahan with LarsonElectronics.com. "Many times, operators need to simply lean the drop light against the wall to create area illumination.  In doing so, they put stress on where the cord enters the light, which eventually destroys the light and the cord.  The HD series solves that problem by re-enforcing that area with aluminum to protect the cord and the base of the LED light."



Larson Electronics is a long time leader in the industrial lighting field and produces a wide range of intrinsically safe LED lights, explosion proof LED work lights, portable LED lights, explosion proof flashlights and LED trouble lights. The entire Larson Electronics line of work lighting solutions can be viewed by visiting them on the web at Larsonelectronics.com. You can also call 1-800-369-6671 to learn more about all of their lighting products or call 1-214-616-6180 for international inquires.

More from Controls & Controllers