Pyrometers and Infrared Thermometers
Portable IR Thermometer enables measurement from safe distance.
Press Release Summary: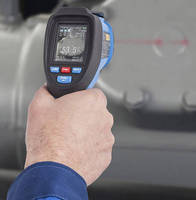 Able to take photos and videos that show measurements, SKF TKTL 40 lets operators safely ascertain surface temperatures of equipment while enabling readings to be reviewed/shared. Dual laser sighting and distance-to-spot ratio of 50:1 lend to accurate surface temperature readings of small areas. Where direct contact temperature measurement may be applicable, unit is supplied with K-type probe connection. Features include backlit display, data logging function, and LED illuminator.
---
Original Press Release:

New SKF TKTL 40 Portable Infrared Thermometer Enables Safe and Efficient Temperature Measurement from a Distance



The new SKF TKTL 40 portable infrared thermometer enables safe and efficient measurement of machine temperature at a distance.  The device is the only infrared thermometer in its class with the capability to take photos and videos showing the temperatures measured, allowing maintenance technicians and other operators to ascertain surface temperatures of equipment with greater ease and safety and enabling readings to be reviewed and shared.  The detection of abnormal or high temperatures ultimately can help prevent problems and potential unplanned machinery downtime associated with potential lubricant or bearing damage.



The SKF TKTL 40 is easy to use by simply aiming and pulling the trigger.  The thermometer performs with a distance-to-spot ratio of 50:1 for accurate surface temperature readings of very small areas, even at long measuring distances.  Two laser points indicate the targeted area for a measurement and the temperature is then shown on the display.  In addition – where direct contact temperature measurement may be applicable – the TKTL 40 is supplied with a K-type probe connection for use independently or in tandem with the infrared technique.



Features of the unit include a backlit display, dual laser sighting, the K-type probe connection (for direct contact temperature measurement), and a bright LED illuminator for visibility even in poorly lit environments.  A data logging function can be engaged to track temperature changes over time.



Users can select high or low alarm levels with audible warning signals as safeguards.  A user-selectable auto shut-off feature optimizes the rechargeable battery life to promote extended service intervals.



Contact SKF USA Inc., 890 Forty Foot Road, P.O. Box 352, Lansdale, PA 19446.  Phone: 800-440-4SKF (toll free).  Web link: www.skfusa.com



SKF is a leading global supplier of bearings, seals, mechatronics, lubrication systems, and services which include technical support, maintenance and reliability services, engineering consulting and training. SKF is represented in more than 130 countries and has around 15,000 distributor locations worldwide. Annual sales in 2013 were SEK 63,597 million and the number of employees was 48,401. www.skf.com