Portable IR Analyzer Provides ASTM Method for On-site Measurement of Soot Levels in Diesel Engine Oils in Under 30 Seconds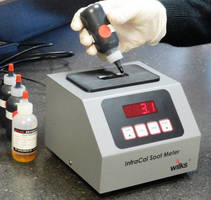 The InfraCal Soot Meter, from Wilks, provides users with a rapid, on-site ASTM Method D7686 for measuring soot concentration levels in diesel engine oils. Soot levels as high as 12% - 15% are easily measured in just 30 seconds. This compact, pushbutton analyzer provides direct readout of the percent of suspended carbon (soot) in the diesel engine lubricating oil without sample preparation, dilution, or solvents and messy transmission cells to clean.  



Since the InfraCal Soot Meter was specifically designed for easy, on-site testing, it represents a major time savings from the widely-used and accepted thermogravimetric analysis (TGA) and FT-IR methods that are impractical as field analysis methods.  The measurement data obtained from the Soot Meter will correlate to TGA and FT-IR analysis techniques. Its one step, pushbutton operation makes the InfraCal Soot Meter easy to use with minimal operator training. 



A rugged, no-moving parts design ensures years of virtually maintenance-free operation with the InfraCal Soot Meter.  Weighing less than 5 lbs., it operates off 12 volt d.c. power and is ideal for use along side diesel engines for on-site, field measurements, in the used oil/engine testing laboratory, onboard ships, at power generation stations, or for truck, bus, and off-highway equipment fleets.   It is Ideal for use on all types of diesel lubricating oils and engines.



For further information on the InfraCal Soot Meter, please contact: Wilks Enterprise, Inc., 25 Van Zant Street, Ste. 8F, E. Norwalk, CT 06855; Tel: 203-855-9136; FAX: 203-838-9868; or visit our web site – http://www.wilksir.com/soot-analyzer; or download the White Paper http://www.wilksir.com/pdf/WP_Soot_Comparison.pdf.



About Wilks Enterprise

Located in E. Norwalk, Connecticut, Wilks Enterprise is a Spectro, Inc. company specializing in easy-to-use, portable mid-infrared analyzers for specific measurement applications.  All Wilks analyzers have been specifically designed for on-site use by non-technical personnel and are used for a wide variety of applications in the biofuels, environmental, petrochemical, quality control, and manufacturing industries.  These portable analyzers enable analytical measurements to be made in the field, helping to eliminate the wait for off-site lab results.



InfraCal and Wilks are trademarks of Spectro, Inc.



Related