Portable Instrument continuously measures up to 5 gases.
Press Release Summary: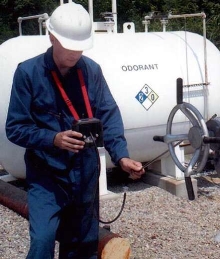 Model X-am 7000 can be fitted with 3 electrochemical and 2 IR optical or catalytic sensors to simultaneously measure up to 5 gases. Available with choice of 25+ sensors, product is capable of detecting 100+ gases and vapors. Instrument features IP67 ingress protection and leak detection mode with ppm bar graph. Intelligent sensors feature EEPROM that stores information pertaining to gas identification, alarm functions, measurement data.
---
Original Press Release:

Draeger Introduces the X-am 7000


Portable gas warning instrument for the continuous measurement of up to five gases

January 14, 2005 - - Pittsburgh, PA - - Draeger Safety, Inc. introduces the X-am 7000, a new portable multigas warning instrument. It can be fitted with three electrochemical and two infrared optical or catalytic sensors and can simultaneously measure up to five gases. A choice of over 25 sensors allows detection of more than 100 gases and vapors.

The Drager X-am 7000 is not only dust and splash-proof, but also completely water-resistant according with an ingress protection rate IP67. Water-repellent membranes protect the sensors if they are dropped into water.

Powerful and efficient rechargeable batteries ensure long operating times, while intelligent battery management ensures a long battery life. The high-delivery pump can draw in sample gas through a hose up to 150 ft / 45 metres in length.

The new Drager X-am 7000 provides flexible gas monitoring with a wide range of sensor selection. All sensors used in the Drager X-am 7000 are intelligent and are recognized automatically by the instrument (plug-and-play). The smart sensor technology allows different types of data (gas identification, alarm functions, measurement data, to be stored in the EEPROM inside the sensor. The sensors are pre-calibrated easily replaced by the customer. The X-am 7000 can accept catalytic sensors and infrared sensors as well as Draeger XS sensor series.

When the instrument is in leak detection mode, a ppm bar graph appears on the display, showing the changes in concentration in steps of 50 ppm. The instrument generates ascending or descending tone frequencies - similar to a Geiger counter - which reflect the detected gas concentration. In an alarm situation the Drager X-am 7000 automatically returns to its normal operating mode.

The new instrument is UL approved as Class I, Div 1, Group A, B, C and D. It can be used in a temperature range from -20 to +60 °C.

The X-am 7000 was specially developed for monitoring tasks in the water and waste/water, oil and gas, chemicals and offshore industries and for use by fire departments. It is suitable for a wide variety of industrial applications.

Draeger Safety, Incorporated in Pittsburgh, PA is part of the Draegerwerk, AG group of companies servicing the Safety and Medical markets. Located in Luebeck, Germany, Draegerwerk, AG employs more than 10,000 people worldwide and has production, sales and distribution facilities located in over 100 countries.

Draeger Safety, Incorporated US headquarters and manufacturing facility are located in Pittsburgh, PA and employ approximately 200 people. Established in 1976, Draeger Safety, Inc. is the largest of Draegerwerk AG's subsidiaries worldwide concentrating in the areas of Gas Detection, Respiratory Protection, Diving and Service. Draeger Safety maintains USA, Canadian and Mexican satellite sales offices, in Houston, TX; Durango, CO; Los Angeles, CA; Mexico City, Mexico; Montreal, Quebec and Edmonton, Alberta, Canada.

Wesley J. Kenneweg serves as president and CEO and has been with the Draeger organization since 1983.

Principal Product Lines include:

-Electronic gas detection measuring and monitoring instruments and systems
-Self-contained breathing apparatus
-Disposable, half-mask and full-face mask filters
-Electro-chemical and infrared sensor engineering and manufacturing
-Draeger Tubes and Draeger CMS spot measurement gas & vapor sampling
-Underwater semi-closed circuit rebreathers
-Filter and oxygen generating self-rescuers
-Emergency escape breathing apparatus
-Supplied air respirators and systems
-Breathalyzer Products

More from Architectural & Civil Engineering Products