Portable Hoist Package withstands construction duties.
Press Release Summary: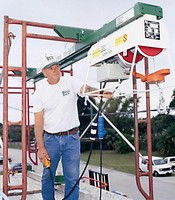 Adaptable to mast climbing work platforms and pre-set scaffolding, Gemini Plus and Scaff-Trac portable hoist mounting package offers 600 lb single-line and 1,200 lb double-line lifting capacities. Gemini Plus portable hoist incorporates overload sensing device, electrical controller, non-rotating cable, upper limit switch, and failsafe brakes. Working with frame scaffolds utilizing 7 or 8 ft cross braces, Scaff-Trac mounting option lets load be rolled back into scaffold for unloading.
---
Original Press Release:

Beta Max Introduces the Gemini Plus and Scaff-Trac Mounting Solutions Package



Creative combination generates superior revenue for rental organization

Melbourne, FL- Beta Max Inc., a leading provider of affordable personnel and material lifting solutions, introduces the Gemini Plus and Scaff-Trac portable hoist mounting package that is adaptable to many mast climbing work platforms and a natural enhancement to dealer equipment offerings. Designed to withstand the rigors of the construction industry, the Gemini Plus and Scaff-Trac package is ideal for a variety of applications that require a lightweight, easily handled and efficient housing unit. Beta Max also offers a multitude of accessories to supplement the Gemini Plus and Scaff-Trac, making this versatile package one of the most resourceful lifting solutions available for the rental market and a means of maximizing rental revenue and customer profits.

"The Beta Max Gemini Plus and Scaff-Trac have immense lasting power and are well suited to withstand the demands of the high traffic rental market," said Dan Newman of Gilco Scaffolding Company in Des Plaines, IL. "This combination has remarkably reliable engineering; therefore, virtually nothing goes wrong unless the hoist is misused, a rare occurrence considering how user-friendly it is. Also, the safety devices are full-proof and the service Beta Max extends to their customers is outstanding."

Among Beta Max lifting solutions, the Gemini Plus portable hoist is the most popular and boasts a single line lifting capacity of 600 pounds and a double line lifting capacity of 1200 pounds. The overload sensing device ensures worker safety by halting when the maximum payload capacity is reached. The Gemini Plus comes equipped with a durable electrical controller, a non-rotating cable to help prevent loads from spinning while lifting and lowering objects and an upper limit switch to automatically stop the load when it reaches the top. Its failsafe brakes ensure there will be no free-falling even in the event of power interruption.

The popular Scaff-Trac mounting option offers versatility and ease-of-assembly, and is able to adapt to most pre-set scaffolding by attaching to the scaffolding and hanging under the horizontal members of a frame scaffold using Beta Max saddles and pins.

The Scaff-Trac works with frame scaffolds utilizing either 7 or 8 foot cross braces, and allows the load to be rolled back into the scaffold for unloading. The Scaff-Trac allows a cantilever of 3.5 feet. Unlimited system lengths are available using add-on 7 foot Scaff-Trac extensions. All Beta Max Hoists Systems meet or exceed ANSI and OSHA specifications.

About Beta Max
Beta Max Inc., of Melbourne, Florida, has been providing the construction and restoration industries with alternate methods for lifting building materials for 20 years. For more information on the New Yorker Portable Hoist, contact Beta Max Inc., P.O. Box 2750, Melbourne, FL 32902-2750. Call: 800-233-5112 or fax: 321-768-9517. Visit Beta Max Inc. on the World Wide Web at www.betamaxhoist.com.

More from Machinery & Machining Tools