Portable GC System analyzes VOCs in water, soil, and air.
Press Release Summary: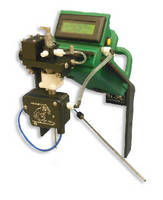 Combining micro preconcentrator, micro GC column, and photoionization detector, Frog-4000 can be used as portable GC PID for environmental testing in field, mobile lab, portable lab, or commercial environmental lab. Display screen provides chromatogram of VOC identification and concentration in PPB of analyte. SD cards store field analyses with chromatography software for data analyses. Operating for 6 hr on rechargeable battery, handheld analyzer includes RS-232 or USB port.
---
Original Press Release:

Frog-4000(TM) Portable GC Analysis of VOCs in Water, Soil & Air



Applications:



• Groundwater Monitoring

• Surface Water Monitoring 

• Vapor Intrusion Monitoring

• Soil Vapor Extraction Process Monitoring 

• Soil Vapor Monitoring

• Soil Monitoring

• Environmental Remediation 

• Site Characterization

• Adaptable for IAQ

• Process Monitoring



New Star Environmental introduces the Frog-4000, a fully contained purge and trap GC system with analytical capabilities that are comparable to a commercial lab with the advantage of its compact size. The hand-held GC is designed for real-time portable analysis of VOCs in water, soil, and air. This unit can be used as a portable GC PID for environmental testing in the field, in a mobile lab, portable lab, or in a commercial environmental lab.



The system has a micro preconcentrator, micro GC column, and a photoionization detector (PID). The FROG-4000 scrubs ambient air to use as the carrier gas. The display screen provides a chromatogram of VOC identification and concentration in PPB of analyte. Analysis results are available in only five minutes. The SD cards store field analyses with chromatography software for data analyses and it can perform a complete real-time GC analysis while connected to a laptop.



Chemical capabilities include but are not limited to:



• BTEX 

• TCE 

• PCE 

• Benzene

• Pharmaceutical VOCs 

• Non methane organic compounds (NMVOCs)

• Priority Pollutants  

• Hazardous Air Pollutants (HAPs)

• Other VOCs



A rechargeable battery lasts for 6 hours. The unit comes with computer interface standard RS-232 port or USB. For complete product information and specifications go to www.newstarenvironmental.com/frog-4000



New Star Environmental

Ph 770-949-9409

www.NewStarEnvironmental.com

email:  BillTaylorIII@earthlink.net



More from Electrical Equipment & Systems