Portable Ductility Tester provides wrap and torsion testing.
Press Release Summary: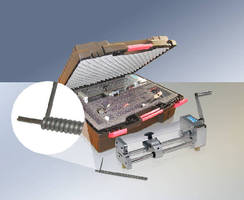 Providing slickline optimization in oil and gas industry, Wraptor(TM) allows for safe, controlled wire test of up to 3 ft in length for 0.125 in. line and more for 0.108 in. line. With tester, users can make accurate predictions as to state of slickline and its optimum retirement point. Self-contained in carry case, Wraptor comes with chuck, bushing, wire guide for wrap tests, spindle and chuck for torsion tests, as well as pliers, Allen key, table fixtures, and operating handle.
---
Original Press Release:
The Wraptor - Safe, Accurate Slickline Ductility Tester from Sandvik
A new, portable ductility testing unit, the Wraptor(TM) from Sandvik Materials Technology, combines ease of use with consistent repeatability for slickline optimization in the oil & gas industry. Consistent repeatability time and time again with increased accuracy and safety means significantly reduced unplanned production stops along with maximizing the safe use of individual slicklines. Developed by Sandvik engineers, the Wraptor is a sturdy, fully self contained unit suitable for both wrap testing and torsion testing. The process of wrapping a line around its own diameter exerts extreme pressure on the outer fibre of the line and any reduced ductility is immediately apparent. It allows for safe, controlled wire test of up to 1 meter (3 feet) in length for a 0.125" line and more for a 0.108" line, meaning the surface area tested can be up to 100 times greater than the alternative method of knotting the line. This drastically reduces the danger of lowering a brittle line into a well with the risk of losing valuable production equipment and the greater associated threat of lost production. Use of the Wraptor provides the ability to make consistently accurate predictions as to the state of a slickline, its optimum retirement point and can lead to considerable cost and operational time savings. Its use can open up opportunities to reduce working capital as less spare equipment would need to be kept on site. Wrap testing is the recommended method for testing ductility in stainless and alloy wirelines, while torsion testing is recommended for carbon steel wirelines. This is due to the structural differences of the steels, stainless steels being anisotropic, ductile in one direction, while carbon steels are isotropic, ductile in all directions. Self contained in a tough carry case, the Wraptor comes complete with all the necessary accessories including: chuck, bushing and wire guide for wrap tests, and spindle and chuck for torsion tests. Flat nose pliers, Allen key, table fixtures and operating handle are also included. A detailed test procedures guide, encapsulated visual comparison evaluation chart and 6x magnifying glass is also supplied. For further information on Sandvik slicklines for the oil & gas industry and the Wraptor ductility tester visit the website: www.smt.sandvik.com/wire ; , or contact Sandvik. Sandviken
Sweden
Tel: + 46 26 26 30 00
Fax: + 46 26 25 17 10
Internet: http://www.smt.sandvik.com/tube
More from Mechanical Components and Assemblies