Portable Davit Cranes suit wastewater treatment plants.
Press Release Summary: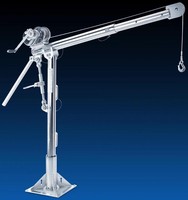 To maximize use of space in wastewater treatment plants, portable davit cranes can be moved throughout plant to meet lifting or hoisting requirements. Attaching wall and floor bases to multiple lift points also helps avoid dangerous clutter in plant. Along with corrosion-resistant or galvanized finishes and stainless steel construction, cranes feature quick disconnect cable suited for handling submerged loads where connecting and reconnecting cable is difficult.
---
Original Press Release:

Thern Davits Add Portable Power Solutions to Wastewater Treatment Plants



Winona, Minn., Oct. 30, 2007 - Thern Inc., a major manufacturer of winches, cranes and hoists offers a complete line of portable davit cranes to help wastewater treatment plants make economical use of their space, while helping to reduce costs by performing a variety lifting and pulling tasks.

"Portable davits have been well accepted in treatment plants to maximize efficiency for labor-intensive submersible pump and mixer handling," says Mr. Thelen, Sales Manager for Thern. "Portable davits are also finding their way into other uses around the plant--from positioning diffusers to lifting UV panels, our portable davits are helping plant operators perform tasks with ease and reliability."

"Rather than securing davits at each lift point, one or two portable davits can easily be moved throughout the plant to meet any lifting or hoisting requirement," says Mr. Thelen. "By attaching wall and floor bases to multiple lift points, operators can conserve space and avoid dangerous clutter around the plant."

"We've also added a quick disconnect cable feature," says Mr. Thelen. "The cable is useful for handling submerged loads, where connecting and reconnecting the cable is difficult or impossible." Thern portable davits also feature corrosion resistant or galvanized finishes or stainless steel construction. Available in a wide range of sizes and capacities or custom designed for specific plant applications Thern portable davits meet a large variety of needs.

Thern, Inc. is a major designer and manufacturer of winches, cranes and hoists for virtually unlimited industrial applications. Founded in 1948, Thern is headquartered in Winona, Minn. and markets its products worldwide. Learn more about Thern products at www.thern.com or contact us via e-mail at info@thern.com or call 800.843.7648.

Contacts:

Scott Thelen, Thern, Inc., sthelen@thern.com

Liv Tollefson, Linnihan Foy Advertising, liv@linnihanfoy.com

More from Fluid & Gas Flow Equipment