Portable Cutting Systems enable emergency extraction.
Press Release Summary: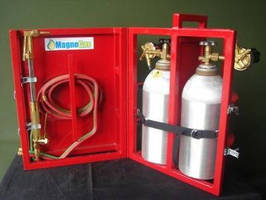 Supplied in aluminum cage, MagneTote™Â securely holds 2 portable aluminum cylinders containing oxygen and MagneGas®. Detachable torch, hose, and extra tips are also included. Designed to be worn as backpack, second MagneTote package holds same equipment. Cage can unclasp and open for immediate access to hose and torch. Both systems provide user with up to 1 hr of cutting time and address needs of fire and rescue as well as other applications in harsh, mobile, or dangerous environments.
---
Original Press Release:

MagneGas Launches Innovative MagneTote(TM) Product Line



MagneTote™ is a Portable and Compact System to Cut with the Power of MagneGas®



TAMPA, Fla. – MagneGas® Corporation ("MagneGas" or the "Company") (NASDAQ: MNGA), a technology company that counts among its inventions a patented process that converts liquid waste into a hydrogen-based fuel, announced today the launch of the MagneTote™ family of cutting systems.



Using input from the actual end users including the New York City Fire Department along with the Clearwater and Dunedin Fire Departments, MagneGas has developed two "emergency extraction" packages. The first is the MagneTote™ which is a lightweight aluminum cage designed to securely hold two portable aluminum cylinders containing oxygen and MagneGas®. It also comes with a detachable torch, hose and extra tips. The second emergency extraction package is designed to be worn as a backpack holding all of the same equipment.  The cage can unclasp and open for immediate access to the hose and torch, which allows for a speedy setup and easy use. These compact and portable systems provide the user with up to an hour of life saving cutting time



Positive attention towards the MagneTote™ is spreading beyond our fire and rescue services to other customers who value safety, portability, and the cutting power of MagneGas® as the Company receives feedback from other customers.  In addition, the Company believes that the capability to operate in harsh, mobile, or dangerous environments also opens military opportunities which are being targeted.



"The MagneTote™ system was born out of close cooperation with Fire and Rescue services such as FDNY and Clearwater Fire & Rescue who needed the power of MagneGas in a secure package weighing less than 50 pounds. We are very pleased with this product and the customer feedback." Stated Terry Vernille, Senior Vice President MagneGas Corp.



"Leveraging the inherent stability of MagneGas® cutting fuel with the MagneTote™ plays to our strengths by offering a safe and compact cutting system ideal for deployment into harsh environments where a customer would never dream of taking an inherently unstable cutting fuel such as acetylene," commented Ermanno Santilli, CEO MagneGas Corp.



The MagneGas IR App is now available for free in Apple's App Store for the iPhone or iPad http://bit.ly/AfLYww and at Google Play http://bit.ly/Km2iyk for Android mobile devices.



To be added to the MagneGas investor email list, please email pcarlson@kcsa.com with MNGA in the subject line.



About MagneGas Corporation



Founded in 2007, Tampa-based MagneGas Corporation (NASDAQ: MNGA) is a technology Company that counts among its inventions, a patented process that converts liquid waste into hydrogen based fuels.  The Company currently sells MagneGas® into the metal working market as a replacement to acetylene.  It is also selling equipment for the sterilization of bio-contaminated liquid waste for various industrial and agricultural markets.  In addition, the Company is developing a variety of ancillary uses for MagneGas® fuels utilizing its high flame temperature for co-combustion of hydrocarbon fuels and other advanced applications.  For more information on MagneGas®, please visit the Company's website at www.MagneGas.com.



CONTACT:

Investor:

KCSA Strategic Communications:

Philip Carlson 

+1 212.896.1233 

pcarlson@kcsa.com



Brad Nelson

+1 212.896.1217

bnelson@kcsa.com



More from Fluid & Gas Flow Equipment