Portable Cooling Fan is available with 48 in. diameter.
Press Release Summary: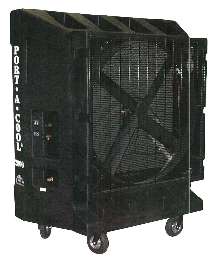 Port-A-Cool® unit with 48 in. dia fan blade provides portable evaporative cooling for areas as large as 3,500 ft². System pulls hot, ambient air through water-soaked evaporative cooling media located in back of unit, lowering air temperature by 18-26 °F. Rotomolded, one-piece housing incorporates caddy, molded-in switch box, and recessed valve pockets. Unit incorporates sump tank with 23 gal capacity and requires 110 V and tap water in order to operate.
---
Original Press Release:

New Port-a-Cool 48 inch fan


CENTER,TX - General Shelters of Texas, S.B., Ltd. introduces their all new 48" diameter fan blade model for the hot summer months.

The 48-inch fan-blade model joins the Port-A-Cool® unit lineup offering portable evaporative cooling for even larger areas. This new model will cool approximately 3,500 sq. ft., making it a perfect choice for warehouses, assembly lines and larger areas that would be impractical to cool with traditional air conditioning.

The system works simply by pulling hot, ambient air through water-soaked evaporative cooling media located in the back of the unit. The evaporation process takes place within the cooling media, creating cool air that is dispersed by a fan located in the front of the unit. Testing has shown that the Port-A-Cool® evaporative cooling unit consistently lowers the air temperature 18-26°F.

The one-piece rotomolded housing for the Port-A-Cool® unit incorporates the caddy, making the unit sturdy and immune to rust. Each unit is shipped completely assembled and ready to operate right out of the box. A molded-in switch box and recessed valve pockets assure better protection for valve handles and internal wiring. The wiring system incorporates a quick connect electrical connector that provides for easy replacement of any electrical component without rewiring. Overall, Port-A-Cool® units are built with the end-user in mind and the product is backed by a guaranteed limited warranty. Port-A-Cool® units are ETL listed and approved by Underwriters' Laboratory.

A Port-A-Cool® unit can make outside activities become more comfortable and enjoyable in spite of summer heat or warmer than comfortable working conditions. Other practical applications for Port-A-Cool® units include spot cooling in greenhouses, warehouses, gyms, garages, kennels, barns and workshops. The four fan sizes increase the variety of uses for the Port-A-Cool® unit and the list of uses for this versatile unit are virtually endless. Since Port-A-Cool® units require only 110 volts and tap water to operate, a unit can be placed almost anywhere and moved easily on casters. Port-A-Cool® cooling units are offered with a variety of options. Although the large sump tank in the bottom of the unit holds 23 gallons of water in the 48-inch unit, a portable 50-gallon water tank, Port-A-Filler, is available for use with all size units for applications where a nearby water source is not available. Also, the four pneumatic casters mounted to the bottom of the 48" unit allow ease of movement on varying terrain.

For more information, please call 1-800-695-2942 for a distributor near you or visit booth #2416 at National Manufacturing Week in Chicago for a free demonstration. You may also visit us online at www.port-a-cool.com.

More from Architectural & Civil Engineering Products