Portable Computer offers wireless hand-held interface.
Press Release Summary: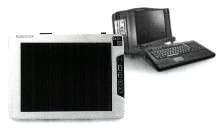 FlexPAC(TM) portable computer is available with optional mobile touch screen display that communicates through peer-to-peer 802.1 lb protocol up to 150 ft away, regardless of application. It features Pentium® 4 processor running at 2 GHz, system memory up to 1 GB, and 16 MB of video memory. Tri-circuit cooling system can handle up to 150 W of heat dissipation. Up to 6 expansion slots are available for full-sized PCI or ISA add-in cards.
---
Original Press Release:

Dolch Introduces Hand-Held Wireless Touch Display


See the new Dolch Hand-Held Display at Comdex/NetWorld+Interop Show

Fremont, California, September 5, 2002 - Dolch Computer Systems extends its leadership in rugged mobile computing solutions by offering a new hand-held wireless touch display interface for its
FlexPAC(TM) family of portable computers. The Dolch FlexPAC is the most space efficient, easily expandable rugged portable in the industry, and now offers the mobility of a lightweight wireless hand-held interface. This optional mobile touch screen wireless display communicates with the FlexPAC through a peer-to-peer 802.1 lb protocol up to 150 feet away, regardless of the application. See it for the first time at the Comdex/NetWorld+Interop show in Atlanta, Georgia, September 10 to 12 at booth 851.

"A Dolch FlexPAC with a Hand-Held Wireless Touch Display takes mobile computing to the next level," said Jim Ciardella, President of Dolch. "While Tablet PC's are often heavy and offer limited computing power, you can now have the best of both worlds - a lightweight mobile interface to an expandable, high
performance platform."

Not Only the Best, but Affordable, Too!
FlexPAC with Wireless Touch Display is the ideal product platform for test and measurement environments or situations that requires a high performance rugged solution. With a Pentium® 4 processor running at 2GHz, system memory up to 1GB, and 16MB of video memory, FlexPAC offers more computing power than many traditional portable solutions. It features an industry-first, tri-circuit cooling system that can handle up to 150W of heat dissipation. This advanced design integrates
temperature monitoring and speed sensitive fans to insure the best cooling with the least noise. Up to six expansion slots are available for full-sized PCI or ISA add-in cards. And it's competitively priced, making clones seem less like a bargain than they would have you think.

About Dolch
Headquartered in Fremont, California, Dolch is the world leader in rugged, multi-slot portable industrial PC platforms. Dolch also manufactures rugged touch screen solutions, industrial enclosures and public access kiosk systems. The Dolch Difference - an industry-leading, customer-oriented infrastructure that ensures a consistent product configuration, superior service and lifetime technical support, backs every
product. In addition to the Fremont campus, Dolch has offices in San Diego, Baltimore, Cleveland, Germany, Canada, France and the United Kingdom. For more information on Dolch and its products and services, please visit us at DolchPR.com or call 1.877.347.4929.

Related