Portable Computer has 6 hot-swap SATA-II 3½ in. drive bays.
Press Release Summary: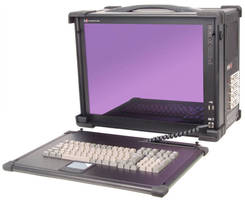 Suitable for flight line test and measurement systems, UAV flight control, and forensics, MP1X20A provides 20.1 in. UXGA 1,600 x 1,200 LCD screen in rugged aluminum alloy chassis. It has provision for mounting standard ATX or EATX motherboard with all seven card slot I/O externally accessible. Features include detachable 108-key keyboard with touch pad, 1 DVD and 1 floppy drive, standard PS/2 power supply, and bonded tempered glass overlay for LCD screen with anti-reflective coating.
---
Original Press Release:

Chassis Plans MP1X20A Rugged Portable Computer System Provides a 20.1-Inch LCD Screen in Rugged Aluminum Chassis Supporting EATX Motherboards



San Diego, Calif. - March 9, 2009 - Chassis Plans, The Original Industrial Computer Source®, releases the MP1X20A rugged enterprise grade portable computer. This unique system provides a 20.1-inch UXGA 1600x1200 LCD screen in a rugged aluminum alloy chassis. This is an ideal system for flight line test and measurement systems, UAV flight control, forensics, and so forth.

The system is ruggedized with all aluminum outer construction and an inner aluminum structural frame. Rubber bumpers are provided on all eight corners to help mitigate rough handling.

Provision is made for mounting a standard ATX (9.6 x 12") or EATX (12 x 13") motherboard with all seven card slot I/O externally accessible, as is the motherboard I/O plate. A card hold-down system assures the cards stay seated in the motherboard connectors. Power is provided by a standard PS/2 style power supply and AC and DC input supplies are available.

The right side of the system provides four hot-swap SATA-II 3-1/2" drive carriers and one 5-1/4" drive bay. Rugged enterprise class hard drives are provided in integrated systems. The drives can be configured in a variety of RAID configurations depending on the installed motherboard and drive controller.

The left side provides the motherboard and plug-in card I/O, two hot-swap SATA-II 3-1/2" drive carriers, one slim DVD and one slim floppy drive. Thus there are six hot-swap drive bays total.

Included is a detachable 108-key keyboard with a touch pad. The keyboard assembly attaches to the front of the system when the LCD is closed to provide a single unit for transportation. Two USB ports on the front right side allow use of an external track ball, joy stick or other input device.

The LCD screen is provided with a bonded tempered glass overlay with anti reflective coating. Options for bonded glass enhancement filters, high bright daylight enhancements, and touch screens are available. The LCD can be configured for DVI or VGA input. Also provided are inputs for Composite Video, S-Video, and Component Video for Picture-In-Picture display. The Genesis GM-1601 video controller is state of the art.

Systems are offered with domestically manufactured long life motherboards providing multi-core performance and the latest chip set support. High quality enterprise class hard drives and high performance Graphics Processing Units make the MP1X20A unparalleled in portable computer features, longevity and quality.

The MP1X20A is intended for rugged military applications where a high resolution display, available high performance motherboard features, and the ability to install standard I/O cards make the application not suitable for a laptop.

System features include:

o One UXGA 1600x1200 20.1-inch LCD screen
o Bonded tempered glass overlay with anti-reflective coating
o Mounting for standard ATX or EATX motherboard
o Two 5-1/4" drive bays with options for two or three hot swap drives
o Six hot-swap SATA-II 3-1/2" drive carriers supporting RAID
o One 5-1/4" drive bay
o One slim DVD and one slim floppy drive
o Motherboard and add-in card I/O externally accessible
o Detachable 108-key keyboard with touch pad
o Standard PS/2 power supply, universal AC and DC input options
o Rugged all aluminum construction
o Multiple high flow cooling fans
o Includes soft side wheeled carrying case with optional hard side transit case
o Options for LCD enhancements and touch screens
o Long life domestic components and revision controlled build for long program availability
o Customer defined features to enhance mission applicability

The MP1X20A is currently shipping in production quantities. For system pricing and availability, contact Chassis Plans at 858-571-4330 or email saleseng@chassisplans.com. See www.chassis-plans.com/rugged-portable-lunchbox-computer/mp1x20a-portable-computer.html for additional system information.

About Chassis Plans

Chassis Plans is a recognized leader in manufacturing fully configured turn-key military grade portable and rackmount computer solutions for the industrial, rugged, and military markets. They manufacture 1U to 6U ATX and Single Board Computer systems tailored exactly to customer application requirements. They also manufacture a full line of industrial rack mount and panel mount LCD monitors and keyboard drawers.

Chassis Plans specializes in long-life product support offering unmatched in-house custom chassis design, long-life industrial motherboards and SBC's with strict revision control and material obsolescence management for trouble free program deployment. Key military customers include companies such as L3, Lockheed, and Northrop Grumman. Notable commercial customers include Siemens, Nikon, & General Electric. Chassis Plans' Systems are Engineered to Perform!(TM) Please visit www.chassis-plans.com for more information or e-mail at saleseng@chassisplans.com.

Company Name: Chassis Plans
Address 1: 8295 Aero Place
City: San Diego
State: CA
Zip: 92123
Country: USA
Phone: 858-571-4330
URL: www.chassis-plans.com

Contact Name: David Lippincott
Title: Chief Technologist
E-mail: davidl@chassisplans.com

More from Packaging Products & Equipment