Portable Computer accepts custom modules.
Press Release Summary: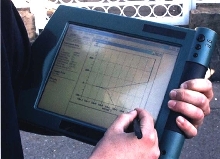 PCIFLEX tablet style, pen-based computer is optimized for mobile applications. It is based around Pentium III class processor at 800 MHz or other ETX CPU modules. Computer incorporates 10.4 TFT SGA or XGA LCD display, and 64 MB on board memory with 64-bit wide memory bus. Touch panel allows user to touch on screen elements with finger or stylus pen, eliminating integral keyboard. PCIFLEX supports Windows 98, 2000, Millennium, NT 4.0, and Linux.
---
Original Press Release:
PCI Automation Inc. Unveils New ETX And PC-MIP Based Portable Computer That Allows Custom Modules To Be Added

Antioch, CA. Dietzenbach, Germany
-May 22, 2002 -- PCI automation Inc., a leading supplier of CompactPCI boards, complete systems, ETX CPU boards and PC-MIP modules for embedded applications, today announced a new concept of a portable versatile computer.

PCI automation Inc. expects its new PCIFLEX portable computer to be used by many system integrators.

The PCIFLEX hardware platform, based on ETX CPUs, best categorized as a tablet style pen-based computer (Tablet Computer). It is designed with unique and compelling features that allows it to perform well in applications for which typical computing devices are not at all well suited. In particular, the device is optimized for mobile tasks by applying ergonomic and other advances to address certain identified application specific requirements and highly upgradable:

- Potential applications in instrumentation applications

- Environmental factors: temperature ranges, rain, dust and dirt, etc.

- No field AC power available

- Relatively long term uninterruptible operation

- Flexible connectivity: Internet, Wireless LAN, accessories, etc.

- Upgradability with ETX type CPUs up to P4 mobile 2GHz

- Extensive usage in a wide variety of applications using up to 3 PC-MIP modules,single and double wide

- Low profile (3.5 cm high) and low weight (less than 1.8 Kg)

Based on these requirements and other desirable features, a platform definition was created to the extent that reasonable "state-of-the-art" technology would allow. The following is a general overview of how the PCIFLEX is designed to satisfy these criteria:

Pen-Based Form Factor

Making the PCIFLEX a pen-based device allows it to be more effective than a typical mobile PC in ways that are considered desirable if not necessary for many computing tasks, particularly so with regard to the real-time nature of certain data gathering applications. A transparent pressure-sensitive panel is installed over the computer's display. This touch panel is interfaced electronically as a pointing device to the computer providing the user with highly intuitive point and touch interaction. Unlike conventional laptop/notebook computers which require the user to move a cursor on the screen and click, double-click, right-click, etc. this panel allows the user to simply touch on screen elements with the finger or stylus pen.

Another aspect to the pen-based form factor is that there is no integral keyboard. Pen oriented software applications are optimized for primarily pen input from the user. When necessary, textual input can be achieved by several methods:

- Natural handwriting recognition

- On screen keyboard

- External full size keyboard accessory

- Voice recognition

Without the need for constant keyboard interaction, a pen computer lends itself to an advanced level of portability and is ergonomically suited for comfortable and efficient use while standing or sitting, hand held or at a table. A pen computer is inherently more user friendly than conventional mobile computers, enabling not only a less technical user base but also enabling the high speed real-time input required for data gathering in addition to other software solution categories.

Functional

The PCIFLEX Pen Based Computer is based around the low voltage mobile Pentium III class processor at 800 MHz or other low power ETX CPU modules.

Touchscreen: The Computer incorporates user interface digitizer technology in the form of a 5-wire resistive analog touch screen or capacitive touch screen. Minimum of 5 million touches per single location. Touch screen substrate can be glass, acrylic or
polycarbonate, each having different characteristics, namely brightness and rugged ability.

Harddisk: incorporates an internal shock mounted and vibration damper hard disk drive with a 12.5mm form factor and a storage capacity of 30 gigabytes ore more.

Display: The Computer incorporates a 10.4 TFT SVGA (800 x 600) or XGA (1024 x 768) Liquid Crystal Display. The LCD will has the option to be brightness enhanced to achieve desired outdoor sunlight readability.

Memory: a minimum of 64 MB of on board system memory with a 64-bit wide memory bus. Upgradeable to 1 Gbyte of system memory.

Graphics: fast, high resolution graphics which is integrated in the chipset. A high performance 3D accelerator, and DVD MPEG2 hardware assist playback are available using up to 32Mbyte of main memory.

Audio: audio capabilities are Sound Blaster Pro compatible, full duplex, internal speaker, internal microphone, and also incorporates both a stereo headphone jack and mono microphone jack.

Operating systems: supports multiple operating systems to include: Windows 98, 2000, Millennium, NT 4.0 and Linux. The system will be externally bootable on some device other than the hard drive.

The PCIFLEX Pen Based Computer has the following interfaces:

- Dual USB ports

- Docking Port

- Video Port (VGA Port)

- Stereo Headphone Jack

- Microphone Jack

- 10/100 Base-T Fast Ethernet LAN

- Dual FireWire ports

- DC In

- Internal Microphone

- Compact Flash Port

- Speaker

- Fast IRDA (Infrared) port


The PCIFLEX Pen Based Computer utilizes a Intelligent Lilon rechargeable battery with fuel gauge incorporated. An external battery pack provides long operating status. It is capable of being powered by both an AC Adaptor and an Car Adaptor.

The PCIFLEX Pen Based Computer power management features incorporates Full Operation, Dose, Sleep, and Suspend modes. Power management is controlled by ACPI v1.0 and APM v1.2 utilities.

Construction Details

The PCIFLEX Pen Based Computer enclosure is designed according to IEC 529/ MIL-STD-810F, method 506.4, 510.3, IP53 standard enclosure class (rain & dust).

Storage Temperature range: -20° C to +70° C
Operating Temperature range -15° C to +60° C

And meets the following agency approval tests.

- Conducted Susceptibility

- Conducted Emissions

- Conducted Transients

- RF Conducted Emissions

- EMI Radiated Levels

- Radiated Susceptibility

- Radiated Emission Limit

- Electrostatic Discharge (ESD) Capability

Standard Devices

AC Adaptor

110-240 VAC, 50/60Hz auto-sensing ac adaptor, DC output. Compact
desktop form factor. Powers the PCIFLEX Pen Based Computer or
external battery charger if needed.

USB Keyboard

87 key, compact keyboard with windows keys. Coiled USB cable.

Car Adaptor

12/24 VDC Input, Powers the PCIFLEX Pen Based Computer through
automotive cigarette lighter.

External USB CD-Rom Drive

Low power USB device, latest speed available at time of implementation.

External USB Floppy Disk Drive

3.5" 1.44 MB low power USB device.

External Floppy Disk Drive

3.5" 120 MB - LS120 Disk Drive.

USB Camera Module

(Specification TBD)

USB Barcode Scanner

(Specification TBD)

USB Biometric User Identification Device

(Specification TBD)

About the ETX Platform

ETX Modules interface to a baseboard through 4 miniature connectors. PCI bus, ISA bus and I/O signals like 2 serial ports, a parallel port, 2 USB ports, video and LCD signals,
Ethernet, keyboard and mouse and an audio interface are brought to the baseboard through these connectors

ETX modules are 100mm x 95mm (3.94" x 3.92") allowing wide flexibility in OEM baseboard form-factors.

Since PCI automation Inc. believes that the ETX Platform will become the basis for an industry standard , PCI automation Inc. will provide ETX form-factor details to third parties to enable rapid growth in ETX-compatible products and enhance the acceptance of the platform.

PCI automation Inc. develops and manufactures intelligent CPU and peripheral boards in the US and Germany for many platforms that provide precision control of robotic and automated equipment in the semiconductor, medical and industrial equipment markets as well as for ruggedized embedded OEM applications.

For more information contact sales@pcisystems.com or visit the website at:www.pcisystems.com

application of the computer: www.electrochemistry.de

© Copyright PCI automation Inc., 2002. All rights reserved.

More from Computer Hardware & Peripherals