Portable Cold Chain Datalogger allows remote spot checks.
Press Release Summary: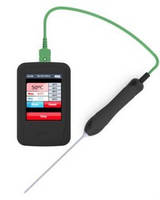 Used to spot check food temperature in walk-in freezers, produce aisles, and kitchens, EnviroPad features 2.8 in. color touchscreen display that shows current temps, Max and Min readings, and graph of data. Smart thermometer logs and stores temperature readings via supplied Type K thermocouple probe; mini-thermocouple connection also allows connection with any J, N, or T type thermocouple probes. As many as 65,536 readings can be saved to integrated memory, each with date and time stamp.
---
Original Press Release:

Spot-Check Food Temperatures on the Go



CAS DataLoggers Offers Smart Thermometer for Logging and Alarming



CHESTERLAND OH – Supermarket managers are often pressed for time, whether handling customers, callers, or making the rounds on inventory day. However, this can pile up and leave little time for another major responsibility—checking perishable food temperatures. Some businesses rely on thermometers, but these are often inaccurate and fail to register temperatures evenly. Now CAS DataLoggers introduces the new EnviroPad Smart Thermometer to help ensure your cold chain integrity. Ideal for spot checking food temperature in walk-in freezers, produce aisles, and kitchens, the touchscreen EnviroPad is an ideal yet inexpensive cold chain solution.



Incredibly easy to use, this smart thermometer logs and stores temperature readings via the supplied Type K thermocouple probe and can also connect with any J, N and T-type thermocouple probes using its mini-thermocouple connection. All readings are saved to the logger's integrated memory on a file along with a date and time stamp in CSV format, storing up to 65,536 readings.



Now you can check your product temperatures at any time on the large 2.8" color touchscreen display showing current temps, maximum and minimum readings, and a graph of the data. The portable data logger runs on an internal rechargeable lithium polymer battery for extended operation. The EnviroPad also comes with a removable protective boot (dishwasher-safe) for extra durability.



The data logger can operate in two modes--Data Logging and Spot Measurement. When it's set to Data Logging mode, the EnviroPad records temperature data in either Celcius or Fahrenheit on its own, so you can leave it and take care of other work. The logger's variable sample rates can record at any interval. When in Spot Measurement mode, you can use the unit as a thermometer to capture single temperature readings which are displayed onscreen. The logger can repeat these spot checks up to 65,536 readings per file.



Audible alarming is a major advantage of smart thermometers, notifying you the moment that your temperatures go outside safe values. Just set your own High and Low alarms to match your product's temperature limits and you're ready to record. Additionally, you can quickly download all the saved logger data to a PC via micro USB connection with the supplied cable. There you can view all the data using Microsoft Excel or similar spreadsheet packages using the free specialized software.



With datalogging, alarming and data organization functionality all in a handheld device, our new EnviroPad is a great way to track your temperatures and avoid losing product.



For more information on our new smart thermometers, other datalogging products expressly designed for cold chain supply, or to find the ideal solution for your application-specific needs, contact a CAS Data Logger Applications Specialist at (800) 956-4437 or visit the website at www.DataLoggerInc.com.



Contact Information:

CAS DataLoggers, Inc.

12628 Chillicothe Road

Chesterland, Ohio 44026

(440) 729-2570

(800) 956-4437

sales@dataloggerinc.com

www.dataloggerinc.com

More from Electrical Equipment & Systems