Portable Coalescer features indicator gages.
Press Release Summary: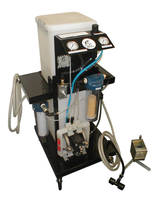 Oasis(TM) portable coalescer separates tramp oil and fine particles from water-based fluids, such as metalworking fluid. It features ON/OFF lever to activate power to air pump, labeled gages and filters for reference, and Odor Control Capsule to eliminate foul coolant odors. Sidewinder(TM) Tube Skimmer helps in removing oil effectively.
---
Original Press Release:

Zebra Skimmers Corporation, Introduces Oasis(TM) Portable Coalescer



Cleveland, OH-Zebra Skimmers Corporation, a full line manufacturer of oil skimmers and fluid maintenance equipment, introduces its Oasis(TM) Portable Coalescer.

The Oasis separates tramp oil and fine particles from water-based fluids, such as metalworking fluid, increasing its life and reuse, lowering consumption rates and overall costs.

Meg Grant, Sales & Service Manager of Zebra Skimmers Corporation, comments, "The Oasis was engineered to meet our customers' objectives and many aspects of this design address specific features customers utilizing our Snapdragon(TM) Deluxe or ADAPT(TM) models wished for us to incorporate. Their generous feedback has allowed us to design and offer a more solid system, eliminating the two former models altogether."

New & Improved Features of the Oasis include:

o ON/OFF lever activates power to the air pump

o Indicator gages placed for easy viewing

o Gages and filters labeled for easy reference

o Odor Control Capsule eliminates foul coolant odors

o Incorporation of Sidewinder(TM) Tube Skimmer for most effective oil removal

Zebra Skimmers, the leader in fluid maintenance for over a decade, invents new technology to save its customers money on fluid while reducing waste, and sells and supports its equipment worldwide. Most products are guaranteed for at least a year, and some for life.

For your free catalog, contact
Zebra Skimmers Corporation,
Phone: 888-249-4855;

Email: Meg@ZebraSkimmers.com;
or request online: www.ZebraSkimmers.com

P.O. Box 833 Chagrin Falls,
OH 44022
www.ZebraSkimmers.com

Toll Free: 888.249.4855
Phone: 440.349.0141
Fax: 440.349.1211

Contact:

Meg Grant

Sales & Service Manager

Zebra Skimmers Corporation

888-249-4855

Email: Meg@ZebraSkimmers.com