Portable Chromatograph determines BTU of natural gas.
Press Release Summary: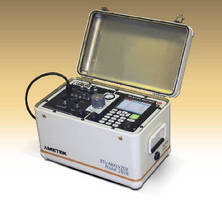 Combining integrated sample handling system, gas chromatograph module, and data processing/handling capabilities, Chandler Engineering Model 292B determines energy content, relative density, and compressibility based on industry-standard calculation methods. Sample transport, signal integration, and system diagnostics are handled within unit to ensure accurate, repeatable analysis. Sample results can be viewed on LCD and reports can be retrieved via USB port.
---
Original Press Release:

Ametek Launches Model 292B Portable BTU Gas Chromatograph



Advanced, Field-Proven Design with State-of-the-Art Features And Fully Integrated Sample Handling



PITTSBURGH, PA – AMETEK Process Instruments—a leader in online analytical instrumentation with the industry's most extensive product line—has introduced the Chandler Engineering Model 292B portable gas chromatograph for the determination of the energy content (BTU) of natural gas. 



The AMETEK Model 292B natural gas chromatograph is designed as a truly portable analyzer. The Model 292B BTU analyzer features a fully integrated sample handling system, rugged gas chromatograph (GC) module, and enhanced data processing and handling capabilities, including a state-of-the-art LCD color display and user interface.



Gas analysis starts with the touch of a button.  Sample transport, signal integration and system diagnostics are handled within the unit to ensure accurate, reliable and repeatable analysis. The unit's advanced electronics platform accurately determines energy content, relative density and compressibility based on industry-standard calculation methods.



Integrated optimization functions result in exceptional sensitivity and peak performance. An integrated sample inlet manifold allows for single point connections of sample and drive (carrier) gases, permitting installation either as a stand-alone analyzer or integrated into a mobile platform such as truck, van or other vehicle. 



Sample results, including "live" chromatograms, raw data information, analysis reports and calibration data can be easily viewed on the front-panel LCD display. System and analysis reports can be retrieved via a USB port, customized to meet user requirements, and printed directly from the unit using an industry standard USB printer port connection.



The Model 292B's advanced software and two onboard computers allow the unit to calculate heating value, relative density and compressibility using the AGA-8 method.  The system also analyzes composition with exceptional accuracy. Oven temperature is precisely controlled, eliminating errors caused by ambient temperature fluctuations.



In addition, the unit's Thermal Conductivity Detectors (TCD) provide extremely high sensitivity, even for low concentrations of components.  The instrument's TCD bridge is balanced automatically before each analysis to ensure peak performance and repeatability.



AMETEK has manufactured laboratory and gas chromatographs for more than 30 years. Its proprietary manufacturing process ensures that the Model 292B will maintain superior repeatability over its entire service life.  Its experience in GC valve design further assures reliable and trouble-free operation.



AMETEK Process Instruments is a leader in the design and manufacture of on-line analytical instrumentation. Its products are based upon eleven differentiated technology platforms and are used by markets ranging from oil, gas, and power to pharmaceutical and semiconductor chip manufacture.



AMETEK Process Instruments is a unit of AMETEK, Inc., a leading global manufacturer of electronic instruments and electric motors with annual sales of more than $3.0 billion. For more information, contact AMETEK Process Instruments, 150 Freeport Rd., Pittsburgh, Pennsylvania, 15238 USA.  Phone: 412-828-9040. Fax: 412-826-0399. Web site: www.ametekpi.com