Portable Carpet Cleaner is suited for government offices.
Press Release Summary: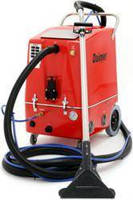 Generating temperatures to 210°F and pressure up to 500 psi, XTreme Power® XPH-9650 carpet extractor helps remove beverage spills, stains, food splatters, and dirt deposited onto surface. Selectable auto-fill and auto-dump features allow cleaning of large areas without interruption, while Advanced, Adjustable Temperature Control™ technology enables work on all carpet types. Other features include 17 gal solution tank, 15 gal recovery tank, and 100 ft hoses.
---
Original Press Release:

Carpet Cleaning Machines from Daimer.com Launched to Government Offices



WOBURN, MA, U.S.A – Daimer Industries, Inc.®, the universally leading brand of American manufactured industrial carpet cleaning machines, such as heated auto carpet cleaner systems, vapor steam cleaners, and other diverse and special technologies, is shipping its XTreme Power® XPH-9650, a portable carpet cleaner extractor with truck mount power.



The machine offers outstanding pressure levels up to 500 psi with selectable auto-fill and auto-dump for the ultimate in user productivity. The auto-fill and auto-dump features allow the system to handle the inflow of clean water and outflow of recovered water automatically, and help users uninterruptedly clean large carpeted surfaces in government offices.



"Carpeting is the most common floor covering used within offices. Dirty carpets create a poor impression and also increase the amount of pollutants within the office," states Matthew Baratta, Daimer Industries, Inc.® spokesperson. "Daimer® is happy to unveil a commercial carpet cleaner that can achieve temperatures up to 210º F and help remove beverage spills, stains, food splatters, and dirt deposited onto the surface. The XTreme Power® XPH-9650 portable carpet steam cleaner http://www.carpetcleanersproviders.com/blog/2013/04/portable-carpet-cleaner-for-commercial-applications/ can maintain all types of carpets, as it comes with the Advanced, Adjustable Temperature Control™ technology that allows users to adjust the temperature according to the carpet fibers and the intensity of the cleaning application."



Daimer® is the world's most famous United States supplier and brand of over 700 models of cleaning machines. Daimer®'s team of experts creates user-friendly product designs that are easy to maintain, extremely portable, and can handle among the most difficult commercial cleaning tasks. The advanced technologies integrated in Daimer® machines and their unprecedented features make them the most preferred machines in most industries around the world. Hotels, hospitals, schools, companies, and cleaning professionals all use Daimer® machines for achieving advanced cleaning results.



Carpets for commercial settings like government offices are designed to be extremely durable, but they still need to be cleaned on a regular basis to prevent problems, such as mold, mildew, dust, dirt, and germs. The XTreme Power® XPH-9650 http://www.daimer.com/carpet-cleaners/xtreme-power-xph-9650.htm carpet shampoo machines from Daimer® feature two powerful inline heating elements that allow the machines to reach high temperatures within only five minutes. The equipment comes standard with the company's Low Flow™ technology that recues the usage of water and makes the machine extremely eco-friendly. Reduced water usage accelerates the drying process and eliminates the risk of mold formation that so often materializes when trailer or truck mount carpet cleaners are used by professionals.



The high-tech portable carpet extractor http://www.carpetcleanersmachines.com/blog/2013/05/portable-extractors-perfect-for-commercial-maintenance/ also comes with Daimer®'s patented XTreme-XTraction® wand technology for unsurpassed extraction power. The 12" head attached offers such power-packed suction that it is the equivalent of a vacuum motor; the suction is 60 percent greater than when using a conventional wand offered by other brands in the industry. Increased suction also reduces the drying time of the XPH-9650 carpet cleaning machines. The quality commercial carpet cleaner dries carpets in nearly two hours.



Commercial facilities like government offices see high daily foot traffic, so the carpets in these settings tend to get very dirty. Cleaning large areas of carpeting requires too much effort and time if low-quality machines are utilized. However, the XTreme Power® XPH-9650 industrial carpet cleaning equipment comes with extra long 100' hoses that offer a cleaning area of up to 31,000 sq. ft. even while keeping the machine stable in one place. Such long hoses end the need for users to roll the machine as often throughout the building while maintaining large areas. Additionally, the technologically-modern carpet cleaner extractor's large solution tank of 17 gallon and recovery tank of 15 gallon allow users to clean for longer periods in self-contained mode without any interruption.



The professional carpet shampooer machines http://www.carpetcleanersproviders.com/blog/2012/01/uses-of-carpet-shampooers/ feature two powerful three stage motors that offer an airflow of 200 cfm and a water column lift of 150 inch for faster drying and increased cleaning power. Daimer®'s superior-quality carpet cleaning machines are very easy to maintain, as these come equipped with the Modular System Design™ (MDS™) and Self-Maintenance Engineering™ (SME™) technologies that allow users to replace a part themselves, whenever required globally.



Daimer® is offering its Eco-Green® Carpet Care & Upholstery Cleaner for free with all its portable carpet extractor systems during special promotions. The plant-based solution, when pre-sprayed on carpets, helps eliminate most kinds of dirt, food deposits, and other buildup. The XTreme Power® XPH-9650, weighing 150 lbs, is easily transported, and comes bundled with many accessories. Customers can also buy an optional 4 inch tool for cleaning the fabric upholstery and cubicles.



For Additional Information:

Call Matthew Baratta at (888) 507-2220 or visit Daimer®'s website to gather more information about the XTreme Power® XPH-9650.



About Daimer Industries, Inc.®:

Daimer Industries, Inc.® is the globally popular supplier of cleaning systems, such as auto carpet cleaner machines, pressure cleaner systems, gum removers, and many other technologies for applications within most industries.

More from Materials