Portable Balances offer capacities from 300-3,000 g.
Press Release Summary: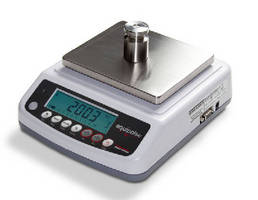 Featuring built-in battery that provides up to 40 hours of continuous use, Equipoise Series can assist with counting, percentage, or accumulation weighing, displaying 13 different units of measure. Balances include 1-touch calibration, backlit LCD, and standard RS-232 port for connecting to printer or PC. Models with capacities less than 1,000 g have detachable weighing chamber for drafty environments.
---
Original Press Release:

Rice Lake Launches Equipoise Line of Compact, Portable Balances



Rice Lake, WI- Rice Lake Weighing Systems has a new choice in portable balances, the new Equipoise Series, equally poised to deliver well-rounded balance features at a competitive, economical price.

Available in capacities of 300 to 3000 grams, Equipoise can assist with counting, percentage or accumulation weighing, displaying in 13 different units of measure. Take Equipoise anywhere. Its built-in battery provides up to 40 hours of continuous use, and in capacities less than 1000 grams an included detachable weighing chamber is a plus for drafty environments. That's only the beginning of what Equipoise has to offer. Simple, one-touch calibration, backlit LCD display, and a standard RS-232 port for connecting to a printer or PC-all features that make Equipoise a better balance value. Learn more about Equipoise. Visit http://www.ricelake.com/equipoise.

Jessica de la Cruz

Copywriter/PR

Rice Lake Weighing Systems

230 W Coleman St. Rice Lake, WI 54868

United States - Phone: 715-434-5364 - Fax: 715-234-6967

www.RiceLake.com - Mobile: m.RiceLake.com

Related