Portable Automated Cell Counter produces results in 15 sec.
Press Release Summary: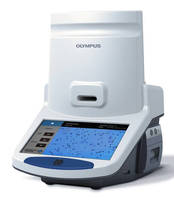 Via automated cell counting and detailed reporting, 195 x 237 x 272 mm Cell Counter model R1 conserves time and simplifies counting process for routine cell culturing. Features include liquid lens autofocus technology, which mimics how human eye focuses; multifunctional software, and 7 in. touchscreen with intuitive UI. Unit can store up to 1,000 counts and 300 different cell protocols for accelerated setup and counting, and counts (as well as images) can also be saved and exported.
---
Original Press Release:

Automatic Cell Counting in 15 Seconds - Olympus Cell Counter Model R1



Olympus has unveiled its new Cell Counter to enhance workflow productivity in cell culturing. The Cell Counter model R1 is a cost-effective solution that saves time and simplifies the cell counting process.



Hamburg – Engineered with leading-edge technology in a portable design, the new Olympus Cell Counter model R1 offers user-friendly and cost-effective cell counting for routine cell culturing.



Accurate cell counts are important for a variety of research applications, including regenerative and drug medicine. Rather than relying on a human operator to manually count cells using a counting chamber, the Cell Counter model R1 standardises the process with fully automated cell counting and detailed reporting. The R1 uses innovative liquid lens autofocus technology, which mimics the way the human eye focuses. It features software with a unique algorithm for accurate automated cell counts in as little as 15 seconds.



The model R1 is designed to be user-friendly and includes a 7-in. touchscreen display with an intuitive interface. The software is easily optimised and features cell size and roundness-based sorting capabilities, the ability to identify live and dead cells, clumped cell declustering, and an automatic dilution calculator. Users have the ability to easily adjust the minimum and maximum cell size so that only the desired cells are detected. Counts can then be displayed as a histogram for analysing certain size cells based on size distribution. The R1 can store up to 1,000 counts and 300 different cell protocols for quick set-up and counting for routine culturing procedures. Result reporting is straightforward and available at-a-glance without the need to write down detailed settings. Counts are saved as CSV files that can be exported using a portable USB drive. Alternatively, for more comprehensive reporting, count results and images can be saved together and exported as either a TIFF or PDF file.



The Olympus Cell Counter model R1 is a cost-effective solution that saves time and simplifies the cell counting process. It utilises disposable slides with two chambers so that each slide can be used to make two separate cell counts. Operators simply place a droplet of cell sample into a chamber on a special slide and place it in the cell counter. With dimensions of (W × D × H) 195 mm × 237 mm × 272 mm and weighing only 2.1 kg, it fits in any workspace.



For more information, visit www.olympus-lifescience.com.



Please contact:



Olympus:

Ralf Schäfer (Group Leader Marketing Communications Microscopy)

Olympus Europa SE & Co. KG

Hamburg, GER

Tel: +49 (0) 40 23773 5913

Fax: +49 (0) 40 23773 505 913

E-mail: microscopy@olympus-europa.com

Web: www.olympus-lifescience.com



Text:

Victoria Coupe (Senior Account Manager)

Alto Marketing,

Southampton, UK

Tel: +44 (0) 1489 557 672

Fax: +44 (0) 1489 559 246

E-mail: victoriac@alto-marketing.com

Web: www.alto-marketing.com



Olympus media contact in the USA:

Ilene Semiatin

Edge Communications Inc.

White Plains, NY 10605

1.914.684.0959

ilene@edge-comm.net

More from Communication Systems & Equipment