Portable Assembly Tables suit material handling applications.
Press Release Summary: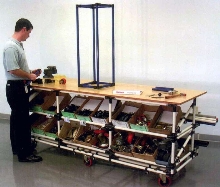 Constructed from Creform® System of pipes and joints, portable Kaizen Work Shop adapts to needs of various industries. Carts are available in 2 designs: 4 x 8 ft workbench-type top surface with storage for 8 ft long pipe sections and bins for holding joints and hardware accessories, or narrower configuration for maneuverability and table-like top. Carts can be manually pushed or pulled via powered tugger vehicles by integral hitch.
---
Original Press Release:

New Creform® Mobile Assembly Cart Makes Improvement Never Ending


'Kaizen'...improvement never ends. Continuous improvement programs are the backbone of lean manufacturing practices and have long been at the forefront of Creform® Corporation's objective to provide commercial enterprises with the tools to achieve never-ending improvement. Now, from the design specialist at Creform comes a new creation-the portable Kaizen Work Shop constructed from the Creform® System of pipes and joints, and used to create additional Creform-made material handling, storage and convenience structures that help implement lean manufacturing processes. The Creform Kaizen Work Shop cart is readily adaptive to the needs of a variety of industries, with two design styles...the first providing a large and heavy duty 4' x 8' workbench type top surface along with storage for 8' long pipe sections and bins holding various joints and hardware accessories that allows on site sizing and assembly of structures. The top surface can easily support power tools and other required equipment.

The second version of the work station provides a like amount of storage for components and pipe lengths, but in a narrower configuration that easily maneuvers into meeting room and conference rooms, and with a table like top making it ideal for 'Lean' displays, demonstrations and training purposes. Both cart designs feature readily accessible pipe length storage areas and bin or box storage racks that are tilted for quick visual identification and ergonomic part retrieval. In addition, each cart design may be either manually pushed, or have an integral hitch added for transport by powered tugger vehicles.

The ease of assembly afforded by the Creform System means the cart frame and storage areas for components can be expanded and the design modified to accommodate specialized needs, or the unit can be made as compact as necessary for more confined spaces. The economy of the unit, provided by the simple design elements and assembly procedures-that for the most part are done by the end users-along with the modest cost of the Creform components, allows having multiple Kaizen Work Shop for use throughout facilities whenever and wherever needed.

The Creform System is a material handling concept consisting of a series of resin-coated pipes, metal or plastic joints, fixtures and hardware accessories that can be easily sized and assembled by end users. Available from Creform are all the necessary items needed for building the Kaizen Work Shop, including a variety of casters styles and sizes for specific requirements, along with the hardware and the assembly tools such as manual or powered pipe cutters, end deburring tools, wrenches for use with metal joint construction, and specially formulated adhesives when plastic joints are used, that make the process simple and fast. Though light and maneuverable, Creform structures are strong and rugged for harsh industrial environments.

Besides the portable Kaizen Work Station, other representative examples of Creform-built material handling structures include push carts and trailers; flow racks; roller conveyors;; hinged shelf carts; tilting racks and tables; height adjustable work tables and workstations along with the portable tool cribs and storage units. Other special purpose 'lean manufacturing' units include janitorial carts, information kiosks, and 'Kanban' routing card racks. Also available are static discharge-rated components that can be used for handling sensitive electronics. The Creform System can also be used to implement economical and easy-to-install Automated Guided Cart systems for efficient automated material delivery units.

In addition to providing Creform System components, the Creform Corporation also offers design and assembly services for the virtually infinite number of structures and applications possible... and partners with many of its customers in developing, implementing, maintaining and expanding their lean manufacturing programs.

Visit www.creform.com for additional information regarding Creform Corporation, its products and applications.