Portable Amplification System helps speakers in large rooms.
Press Release Summary: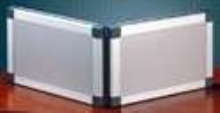 GoSpeak! voice amplification system uses dual flat-panel NXT® technology SurfaceSound(TM) speakers to provide room-filling audio amplification. It weighs less than 5 lb, measures 9 x 13 x 3 in., and provides 40 W of amplification. For crowds exceeding 200 people, multiple units can be daisy-chained. Microphone input, stereo line input and stereo line output are provided using 1/8" mini phone jack connections.
---
Original Press Release:

Introducing the New GoSpeak!


New Ultra-Portable Amplification System

Adds Vocal Clarity and Punch for Presentations, Sales Meetings, Training Sessions, Teaching Seminars, Trade Show Demos and More

Camarillo, California, October 4, 2004 --Interlink Electronics, Inc. (Nasdaq:LINK), the worldwide leader in the development of intuitive interface technologies and presentation solutions, today introduced GoSpeak! a new, ultra-portable voice amplification system. Powerful enough to address audiences of 200 people, GoSpeak!'s flat-panel NXT® technology SurfaceSound(TM) speakers provide room-filling audio amplification for crowded presentations, sales meetings, training sessions, teaching seminars and trade show demonstrations.

GoSpeak! is a portable voice reinforcement and amplification system designed for corporate presenters, professional speakers, trainers, educators, facilities managers and field professionals. It weighs less than 5 pounds and slips into a laptop tot-bag. GoSpeak! sets up in seconds--providing 40 watts of amplification for rooms of up to 200 people

"GoSpeak! adds clarity and punch to your voice during presentations in the same way that portable projectors bring focus and impact to your visual images," said Mr. Jim Reisteter, Vice President of Sales and Marketing, Interlink Electronics, Inc. "Both words and slides work together in effective presentations, but in crowded meeting rooms or outdoor settings, it's the audio-the voice reinforcement-that is often overlooked. Other 'so called' portable PA systems are too heavy and bulky or too technically difficult for the presenter to use easily in these situations.

"The premier audio presentation product from Interlink Electronics, GoSpeak! will be marketed through our distribution and reseller channels as well as directly through our global online store," added Mr. Reisteter. "For presentations or training seminars to audiences of more than 10 people, GoSpeak! is as crucial to a speaker's success as are PowerPoint® slides or the projector used to display them."

About GoSpeak!

GoSpeak! is an ultra-portable personal amplification system designed to address audiences from 10 to 200 in size. It is compatible with today's leading wired and wireless microphone systems including those from Audio Technica and Azden, as well as other high impedance dynamic microphones. GoSpeak! is both portable (weighing less than 5 pounds and measuring about 9" x 13" x 3") and powerful (with dual flat-panel NXT SurfaceSound speakers providing 40 watts of amplification). Where even greater amplification is required, multiple GoSpeak! systems can be daisy-chained. Microphone input, stereo line input and stereo line output are provided using 1/8" mini phone jack connections.

GoSpeak! will be available starting in October 2004 directly from Interlink Electronics or through selected resellers with a suggested retail price (MSLP) of only $399. A one-year limited warranty and toll-free technical support are included. GoSpeak! is also available with a wireless microphone system included at an additional cost. For more information, see GoSpeak! online at www.gospeaklink.com.

About Interlink Electronics, Inc.

Interlink Electronics, Inc. (Nasdaq: LINK) is a world leader in the design and manufacture of intuitive interface technologies and products. Creating today's interface standards, our Business Communications business unit develops OEM remote controls for portable projectors and flat panel displays, as well as an Interlink branded line of input devices. Selected customers include Coretronic, Delta, Dell, HP, InFocus, Microsoft, Mitsubishi, NEC, Sanyo, Sharp, Sony and Toshiba.

Recognized worldwide for innovative technologies and solutions, Interlink Electronics, Inc. serves a global customer-base from its corporate headquarters in Camarillo, CA and offices in Japan, Taiwan, Hong Kong and China. The Company currently holds numerous patents on its sensor technologies, e-signature technologies, wireless communications protocols and product design properties. See Interlink Electronics online at www.interlinkelectronics.com/ or in Japan at http://www.interlinkelec.co.jp/.

GoSpeak! is a trademark of Interlink Electronics, Inc.

FSR, VersaPoint, VersaPad and RemoteLink are registered trademarks of Interlink Electronics, Inc.

NXT Technology and SurfaceSound are trademarks of New Transducers Limited.

All other registrations and trademarks are properties of their respective owners.

Interlink Electronics, Inc.
546 Flynn Rd, Camarillo, CA 93012
(805) 484-8855
http://www.interlinkelectronics.com/

Contact:

Keith M. Roberts
Director, Corporate Communications
kroberts@interlinkelec.com

More from Mounting & Attaching Products