Portable Aluminum Gantry Lift has lockable legs and casters.
Press Release Summary: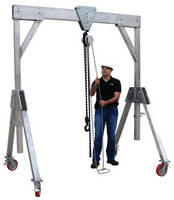 Suited for mechanical contractors, GH2T Gantry Lift features 4,400 lb capacity and comes in 8, 10, 12, and 15 ft as well as 3, 4, and 5 m sizes. Unit consists of two A-frames, each with two 8 in. casters that lock at 90° angles, and frame legs that lock in opened or closed position using pushbutton release. Set screw on trolley secures it to cross beam offered in 7 sizes. Designed to be erected by 2-man crew, product has ground to lifting eye height range of 83-113 in. and weighs 285-331 lb.
---
Original Press Release:

Sumner Manufacturing Announces Improved Fat Jack



Sumner Manufacturing, the industry leader in pipe and material handling equipment, announces new GH2T Gantry Lift for mechanical contractors.



Houston, TX – Sumner Manufacturing announces upgrades to their lightweight, portable and easily assembled all-aluminum GH2T Gantry Lift. The GH2T Gantry lift has a lift capacity of up to 2 metric tons (4,400 lbs) and is available in 4 Imperial sizes (8, 10, 12 and 15 foot) and 3 Metric sizes (3, 4 and 5 meters).



Upgrades to the GH2T Gantry include A-frame legs that lock in opened or closed position utilizing a push-button release and casters with foot brake that lock at 90 degree angles. The new design of the A-frame assembly eliminates the need for a locking cross bar to hold legs in the open position.



The Sumner GH2T Gantry lift consists of two A-frames, a cross beam and attaching hardware.  A-frame legs lock in folded position using a push-button release and feature a removable quick-action locking pin. An adjustable lifting handle allows height adjustments to be made in 6-inch (15 cm) increments. Each A-frame has two 8-inch (200 mm) lockable casters and weighs 113 lbs (51 kg) with casters. The trolley features a set screw that when tightened to the beam holds it in place during assembly, and a convenient positioning handle. The trolley weighs approximately 15 lbs (6.8 kg). Cross beams come in seven sizes (8, 10, 12 and 15 foot; 3, 4 & 5 meter) and have nylon carrying handles at both ends. 5 m and 15 foot beams feature two span adjustments on either end of 13-inches (33 cm). 8 foot beams have no span adjustments. The GH2T Gantry assembly is specifically designed to be erected by a two-man crew.



Minimum and maximum heights from ground to lifting eye are 83-inches (2.1 m) and 113-inches (2.8 m) respectively. Maximum height to the top of the trolley is 113.5-inches (3.4 m). The maximum width of the A-frame when erected is 60.75-inches (1.54 m). The stored height of the A-frame is 100-inches (2.5 m). Gantry models weigh between 285 and 331 lbs (146.5 and 129.2 kg).



For more information visit www.sumner.com .



About Sumner Manufacturing Co., Inc.:

Founded in 1965 in Houston, TX, Sumner Manufacturing has served the welding and mechanical contracting industry for nearly a half century, creating high quality material lifts, jack stands, pipe fit-up clamps, welding tools, and material carts that are currently used daily in more than 50 countries around the world in numerous industries. All Sumner products are built with the concept of providing safe, common sense tools which are priced right. Sumner Manufacturing maintains offices in Houston, TX, Canada, China, the UK and the Netherlands.



Contact:

Les Thomas, Marketing Coordinator

Sumner Manufacturing Co., Inc.

281-999-6900 ext. 103

lthomas@sumner.com





More from Services