Porous All-Metal Membrane comes in various form factors.
Press Release Summary: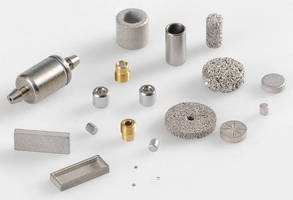 Supplied in 316L stainless steel or titanium, sterilizing grade all-metal membrane meets ASTM F838-05 for bacterial retention. Available form factors range from small discs or tubes for drug delivery applications to 10 in. cartridges for biotechnology and pharmaceutical processing. Product withstands aggressive chemistries and drug cocktails without potential for leaching, outgassing, or other adverse reactions. Filtration ratings range from 0.1 µm to coarser, including 0.2 µm.
---
Original Press Release:

Mott Exhibits Porous Metal Advantages at MD&M Minneapolis



FARMINGTON, CT – Mott porous metal products have been integrated in some of the most innovative medical device designs and applications.  This year Mott will exhibit these products at the MD&M Minneapolis at the Minneapolis Convention Center on October 29-30 at Booth #1645.



Porous metal is ideal for providing ultra low flow diffusion rates, highly dependable filtration performance, controlled fluid release, as well as exacting gas flow restriction.  In drug delivery our materials are used in pain management as well as therapeutic devices.  Rigid, robust, and biocompatible, porous metal affords designers novel and unique properties that are often the solution for challenging medical and life sciences applications.



Porous metal is an extremely strong and durable material.  It's resistance to material-creep, deformation or degradation makes it a viable option for critical medical and biotech devices.



Mott Corporation now offers an all-metal membrane that meets ASTM F838-05 for bacterial retention.  Mott sterilizing grade membranes are supplied in 316L stainless steel or titanium.  This technology is available in a variety of form factors from very small discs or tubes for drug delivery applications to larger 10" cartridges for biotechnology and pharmaceutical processing.  This proprietary membrane is able to withstand aggressive chemistries and drug cocktails without the potential for leaching, outgassing, or other adverse reactions.  Mott porous metal components are available with filtration ratings from sub-micron (0.1µm) to coarser filtration ratings, including 0.2 µm sterilizing grade media. 



Mott has a specialized team of experts who work specifically with medical device designers, engineers, and manufacturers on projects that pave the way to tomorrow's technologies.  Some of these experts will be in our booth at the show and would be happy to discuss your questions and applications.



Established in 1959, Mott Corporation has long been dedicated to applying sintered porous metal to gas and liquid filtration and flow product concepts.  Mott products are used by customers in the medical device, medical instrumentation, pharmaceutical, biotechnology, semiconductor, analytical instrumentation, aerospace, and chromatography industries just to name a few.  To request additional information, call 1-860-747-6333 or E-mail: quest@mottcorp.com.  For more information about Mott, visit our website at www.mottcorp.com.  Mott Corporation, 84 Spring Lane, Farmington, CT 06032-3159.



Media Contact: Patty Dillon, Marketing Manager, (860) 747-6333; pdillon@mottcorp.com

More from Thermal & Heating Equipment