Porex Unveils Results of New Study Verifying CERTIFIED PURE POREX Media as Effective for Greater Accuracy in Clinical and Analytical Methodologies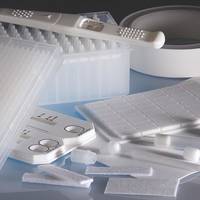 (Fairburn, GA—July 31, 2019) – A recent independent study conducted for Porex on a set of expanded offerings in the CERTIFIED PURE POREX® product lineup found that the media and filters have virtually no material additives, contaminates or heavy metals that can cause interferences in clinical, analytical and blood transfusion testing.
For the study, Porex expanded its CERTIFIED PURE POREX® program to include the award-winning FORTRESS® pipette tip filters, which provide greater protection from aerosols and aspirated liquids, as well as bonded fiber and sintered particles. Porex is the first company to rigorously test its porous polymeric materials, used in critical clinical, diagnostic and medical applications, through an extensive qualification program conducted by nationally renowned third-party laboratories. Porex will reveal the study's findings in a white paper launched at the AACC Annual Scientific Meeting & Clinical Lab EXPO and showcase the array of CERTIFIED PURE POREX® media and filters used in diagnostics applications at Booth #3583 (Anaheim, August 4-8).
Tested by the ASTM F21012 Standard, which sanctions higher standards for better performance, CERTIFIED PURE POREX® materials have over 99.99978 percent aerosol bacterial filtration efficiency (BFE), offering a nearly perfect resistance against the material being contaminated by bacteria. The testing procedure severely challenges most filtration materials and allows a reproducible bacterial experiment. Additionally, the components underwent tests confirming ISO 10993-4 and 10993-5 biocompatibility testing regulatory compliance as well as ICP-MS, an analytical testing method with high sensitivity and, as a result, accuracy.
The study reflects Porex's investment in rigorous testing standards and methods to provide greater assurance for diagnostic and analytical science device manufacturers and end-users. This program not only meets a critical need for significant improvement in the cleanliness of plastic consumables but is particularly crucial in overall healthcare applications, where 80 percent of all healthcare decisions affecting diagnosis or treatment involve a pathology investigation .
"It is imperative that components used during the testing process are pure and not contributing to an inaccurate diagnosis, which can lead to additional operational costs for laboratories and potential liabilities from patients who can suffer greatly from a misdiagnosis," said Maria De Capua, vice president at Porex. "Our CERTIFIED PURE POREX components ensure that everything in the clinical and analytical supply chain—from separation filters to pipette tip filter media—will not interfere with the accuracy of testing outcomes."
Additionally, Porex sought these extra measures to ensure the safety of components in direct contact with patients during common procedures such as those in blood transfusion medicine. Each year, there are more than 13.2 million donors in the United States, who are screened for risk of transmissible disease. Blood samples used for diagnosis or life-saving donations drawn with ill-equipped devices can potentially harm patients and healthcare workers as well as threaten the critical blood supply.
For industry manufacturers including pharmaceutical companies undergoing expensive FDA-approved clinical trials, the third-party verification of CERTIFIED PURE POREX media and filters can grant peace of mind that virtually no test instruments will negatively impact outcomes. Preventing compromised results is the most cost-effective activity to ensure the integrity of data collection. CERTIFIED PURE POREX components proactively preserve the efficacy of results that, when jeopardized, can lead to expensive repercussions.
Porex originally initiated the Certified Pure Program in 2009 by qualifying its porous polymeric materials through analytical, clinical and life sciences testing procedures. The CERTIFIED PURE POREX portfolio will be on display at AACC in Booth #3583.
To learn more about Porex's CERTIFIED PURE POREX program visit www.porex.com.
About Porex Corporation
For nearly 60 years, Porex Corporation has been partnering with our customers to deliver engineering and design innovations that turn their product ideas into reality. Through a collaborative engineering partnership, Porex develops high-value porous polymer solutions to their product design challenges in absorption, application, diffusion, filtration, venting, and wicking. By applying our extensive porous polymer material science, product design, and custom plastic manufacturing expertise to developing porous solutions, we help our customers overcome their complex product development challenges. As a result, over 1,500 customers in 65 countries trust Porex for their porous polymer technologies that can be used in a wide variety of applications in healthcare, consumer, electronics, and industrial industries to improve the performance of their end products and create a safer, healthier and more productive world. Let our experience, quality, and innovation support your continued success by reaching out to us at www.porex.com.
About Filtration Group
Porex is a business of Filtration Group. Filtration Group is making the world safer, healthier and more productive by creating innovative solutions that deliver outstanding customer value. Filtration Group serves a highly diverse set of customers with offerings that span life sciences, process technologies, and fluid and indoor air quality applications. One of the fastest growing companies in the industry, Filtration Group serves its customers from over 100 facilities in 28 countries. For more information, visit www.filtrationgroup.com.
Contact This Company Download Spec Sheet
More from Materials