POREX® Launches Second Cushion Compact Innovation at Cosmoprof Asia for Clean and Convenient Portable Makeup Application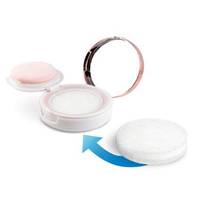 Fairburn, GA (Oct. 19, 2018) – To meet market demand for cushion compacts in China's mainland, Porex Corporation ("Porex") will introduce a new cushion compact product at this year's Cosmoprof Asia in Hong Kong (November 13 – 15, AsiaWorld-Expo/Hong Kong Convention & Exhibition Centre).
Engineered with region-specific needs in mind, this latest advancement retains the same core features of the original patent-pending POREX® Fiber Cushion that debuted at Cosmoprof Bologna in March, but was designed specifically for the cosmetics formulations currently popular with Chinese cosmetics manufacturers.
Constructed to deliver consistent application with portable liquid makeup formulations, POREX® cushion compact technology provides a touch-driven response that retains and releases the exact amount of liquid product the consumer desires—every time. The proprietary design also prevents product leakage, spillage and waste for makeup that's applied on-the-go. In comparison to the traditional foam and fiber materials used for cushion compact makeup, POREX® fiber technology offers consumers a clean, convenient and reliable experience, all within a format that allows brands to customize the texture and appearance of the material.
"Our newest cushion compact product was designed to address the individual needs of the Chinese cosmetics market, which continues to boom and carve out its own role within global trends," says Rusty Martin, global strategic marketing director at Porex. "With this technology and our original design, we are striving to anticipate the movement of the cosmetics market and provide tailored solutions for our customers in diverse regions around the world."
Both cushion compact innovations will be showcased among Porex's broad portfolio of custom cosmetics solutions and capabilities at the Cosmopack Asia venue of Cosmoprof Asia Booth #A15, Hall 5, AsiaWorld-Expo.
Offering benefits including ultra-precise application and uniform formula flow, POREX® premium cosmetics applicators and reservoirs feature capillary structures that can be tailored to the unique porosity that a cosmetics formulation requires. Also in their lineup of cosmetics components are latex-free, super-soft foams customizable in shape, texture and color, as well as Porex's's signature elastomeric material Nubiform®, which utilizes an open-cell structure for even coverage and optimized flow-through of liquid eyeliners, liquid foundation, lip stains and other cosmetics formulas of various viscosities.
To learn more about POREX's cosmetics products, please visit porex.com.
About Porex Corporation
At Porex, we take pride in our nearly 60 years of leveraging material technology and innovation to deliver unique solutions to our customers. We go to great lengths to provide a comprehensive, collaborative engineering partnership to develop high-value porous solutions across functions such as absorbing, applying, diffusing, filtering, venting and wicking that enable our customers to bring new ideas to life. Porex currently services over 1,500 customers from nine global manufacturing and development facilities across a wide range of industries including Biomedical Science, Personal Care, Industrial, Electronics and more. We partner with leading companies to create a safer, healthier, and more productive world. Let our expertise, quality, and innovation support your continued success. For more information about Porex Corporation, visit www.porex.com.
About Filtration Group
Porex is part of the Life Sciences division of Filtration Group. Filtration Group is making the world safer, healthier and more productive by creating innovative solutions that deliver outstanding customer value. Filtration Group serves a highly diverse set of customers with offerings that span life sciences, process technologies, and fluid and indoor air quality applications. One of the fastest growing companies in the industry, Filtration Group serves its customers from over 100 facilities in 28 countries.
Company Contact:
Sabrina Donley
E-mail: sabrina.donley@filtrationgroup.com
Phone: +1 678-479-1765
Press Contact:
Juliet Zhu
E-mail: Juliet.zhu@finnpartners.com
Tel.: +65 3157 5609
Mobile: +65 911 68884
Mobile (China): +86 185 1986 1182
Contact This Company Download Spec Sheet
More from Materials