Polyurethane Sheets resemble brick and stone work.
Press Release Summary: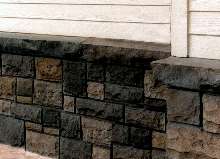 GENSTONE brick and stone aesthetic enhancements come in 2 x 4 ft structural polyurethane sheets suitable for interior or exterior use in commercial or residential applications. Sheets can be installed on any surface and have integrated shiplap joint connections that allow panels to overlap each other. Sheets are impervious to adverse climate and weather conditions, and are for drywall, fireplaces, kitchen islands, window trims, home and deck siding.
---
Original Press Release:

Architectural Products by Outwater, L.L.C. - GenStone


ARCHITECTURAL PRODUCTS BY OUTWATER, L.L.C., Wood-Ridge, NJ - Achieve the look of an authentic brick or stone composition for just a fraction of the cost with GENSTONE, 0UTWATER's innovative 2'x4' structural polyurethane sheets. Thoroughly indistinguishable from genuine brick or stone, OUTWATER's GENSTONE enables individuals without brick or stone laying experience, or required mortar lay up skills to easily and efficiently create picture perfect brick or stone incorporated works more cost effectively than if utilizing traditional masonry methods and materials.

Because OUTWATER's GENSTONE is suitable for interior or exterior use in a vast number of commercial or residential applications, it can be ideally employed as an aesthetic enhancement for drywall, fireplaces, kitchen islands, window trims, home siding, deck siding or any type of project that might make use of brick or stone.

Aside from the normally associated difficulties that are encountered when building with brick or stone, that include cumbersome weight, the cost of transportation, not to mention the sheer expense of the skilled labor required when working with brick or stone, OUTWATER's GENSTONE handles and can be installed on virtually any type of surface using common tools and methods employed in the installation of moulding and millwork. Installation costs are further diminished with integrated shiplap joint connections that allow panels to overlap each other for a seamless, timesaving installation.

Faithfully replicated in lightweight yet highly impact resistant polyurethane from traditional brick and stone design patterns in popular- colors, finishes and textures. OUTWATER's GENSTONE is not only impervious to adverse climate and weather conditions, because of its dimensional stability, it will not alter over time. Furthermore, because OUTWATER'S GENSTONE is unaffected by moisture, insects, UV and most common solvents, it can be used in applications that might be potentially unsuitable for other types of media. Color pictorials and ordering information are available on the website. ARCHITECTURAL PRODUCTS BY OUTWATER can be contacted Toll Free at 1-888-772-1400 (Catalog Requests) / 1-800-835-4400 (Sales and Product Information) or viewed online at www.outwater.com

OUTWATER INDUSTRIES, with facilities in New Jersey, Arizona and Canada, has served its customers since 1972 as "the source" for in stock, ready-to-ship standard and innovative component product essentials.

P 0 Box 347 o 22 Passaic Street o Wood-Ridge, NJ 07075
Telephone 800-835-4400 o 973-365-2002 o Fax 800-835-4403 o 973-472-8852

More from Electronic Components & Devices