Polyurethane Impact Bar suits bulk material handling areas.
Press Release Summary: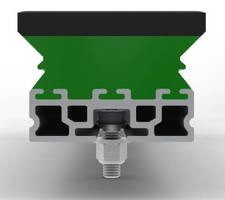 Intended for impact zones where material is dropped, conveyed, or transferred, Load Zone™ Impact Bar comprises ¾ in. thick layer of UHMW, which tops energy-absorbing polyurethane. These layers are secured to extruded aluminum insert for support. Available in variety of sizes, impact bar fits existing Load Zone Impact Beds and retrofits to other manufacturer impact beds.
---
Original Press Release:

Argonics Announces Revolutionary New Polyurethane Impact Bar for Bulk Material Handling Conveyor Transfer and Load Zones



Extensive Testing Drives Design and Yields 241% Improvement in Performance.



GWINN, Mich. – Argonics' engineers spent more than a year designing and testing its new Load Zone™ impact bar. The result is a bar that is 241% stronger with twice the wear life of Argonics' previous impact bar.



The new impact bars are manufactured with three enhanced layers of material that are designed for maximum energy absorption, reduced rebound and increased wear life. A ¾"-thick layer of UHMW tops specifically formulated, energy-absorbing polyurethane. These layers are secured to a completely reengineered extruded aluminum insert that provides dramatically better support.



According to Bob Welker, Director of Business Development for Argonics, "The most critical area in bulk material handling is impact zones where material is dropped, conveyed or transferred. The force of impact can create not only a significant safety issue, but it can lead to damage to material handling equipment – damaged belts, bent frames or material spillage. Our new bars are engineered to be 241% stronger, helping to eliminate this damage and the downtime that results from it."



Force and bounce testing prove better safeguarding of equipment and less fugitive material

Argonics' engineers subjected the standard rubber bar, the existing Load Zone bar with the hollow core, as well as 12 different prototype designs to rigorous testing until they were able to create a new bar that was substantially stronger, had less rebound and still had the ability to absorb the impact of some of the largest conveyed material. Extensive simulations proved that by increasing the thickness of the UHMW in combination with creating compression relief channels along the sides of the urethane, energy absorption and performance was significantly improved.



Deflection Testing and Analysis: Using extensive testing and simulations along with beam calculations, the new design demonstrates significant improvement in deflection over the original bar. Applying 150 pounds of force upon a length of 72 inches proved that the new impact bar design deflects the load by .56" versus 1.91" deflected by the original design, demonstrating a 241% improvement over the original design in the deflection simulation test.



Bounce Test simulates a 14,000 lb. point load of force: Bouncing of bulk material due to height of dropping can create significant safety and spillage problems. A simulation test was conducted using 14,000 lbs. of load force to compare the rebound height, or bounce, of average impact bars, and the current and new designs of Argonics impact bars. The results clearly demonstrate that the new design of Argonics impact bars is truly revolutionary in that it exceeds anything available in the industry today.



Revolutionize Your Plant with Argonics' patented Load Zone™ Impact Bars

The new Argonics Load Zone™ Impact Bars can be ordered in a variety of sizes and fit existing Load Zone Impact Beds and retrofit to other manufacturer impact beds. The same quick-change fastening system is being used in the new product, eliminating the use of expensive T-bolts.



Founded in 1994, Argonics Inc. is one of the industry's largest producers of polyurethane products. With state-of-the-art production facilities in Gwinn, Mich. and Louisville, Colo., Argonics provides high-performance urethane solutions with its team of qualified personnel. The company has received many awards including the Award for Entrepreneurial Excellence and was named one of Michigan's Top 50 Companies to Watch. For more information, visit the company's website: www.argonics.com

More from Agricultural & Farming Products