Polyurethane Foam Sealant suits fireblocking applications.
Press Release Summary: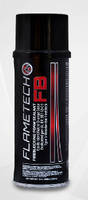 Formulated for draft, smoke, and fireblocking applications in single family residential construction, Flame Tech FB is recognized by UL as alternative fireblocking material and colored orange to facilitate inspection. Closed cell insulating foam sealant expands up to 3 times original bead size to seal off gaps and voids around wires, pipes, ducts, and similar openings. Tack-free in as little as 10 min, Flame Tech FB is cuttable after 1 hour and fully cures in 12–24 hours.
---
Original Press Release:

Everkem Diversified Products Introduces Flame Tech FB(TM) Polyurethane Fireblocking Foam Sealant



WINSTON-SALEM, N.C. – Continuing their commitment to providing quality, market-driven solutions to better serve their customers, Everkem Diversified Products is proud to announce the addition of Flame Tech FB Fireblocking Foam Sealant to their extensive and innovative line of products.



Flame Tech FB Fireblocking Foam Sealant is a long lasting, premium closed cell insulating foam sealant specifically formulated for draft, smoke and fireblocking applications in single family residential construction. Recognized by UL as an alternative fireblocking material and colored orange for ease of inspection, Flame Tech FB Fireblocking Foam Sealant expands up to 3 times the original bead size to seal off gaps and voids around wires, pipes, ducts and similar openings in non-rated single family construction.



"Having pioneered the fireblocking market over 18 years ago with our Fire Caulk and Fire Seal 136 products, adding our Flame Tech FB Fireblocking Foam will offer a complete line of fireblocking solutions and satisfy customer needs where the foam has been approved by their local municipalities," said Jason Lynch, President of Everkem Diversified Products.



Flame Tech-FB offers several advantages over traditional fireblocking materials. Most notably is its cost effectiveness. Many traditional fireblocking methods are time consuming, laborious, and difficult to properly apply. Flame Tech-FB is easy to apply – simply point and shoot. Additionally, Flame Tech-FB possesses superior yield rates compared to fiberglass, caulks, and other fireblocking materials. In fact, one 12 oz. can of Flame Tech FB may yield the equivalent of 15 tubes of caulk.



Flame Tech- FB is tack free in as little as 10 minutes, cuttable after approximately 1 hour, and fully cures in 12 to 24 hours. FlameTech-FB is currently available in 12 oz, straw dispensed cans, with additional packaging options are on the horizon.



Fireblocking is required by the International Building Code for Type V single family residential construction. It is not to be used as a firestop in commercial construction, in any hourly rated assemblies, where a firestop is required, or any application or geographic location where its usage is prohibited by building codes. Always consult with local compliance authorities prior to use. Flame Tech-FB Fireblocking Foam Sealant is for professional use only and should be used with proper training and personal protective equipment.



For more information regarding Flame Tech-FB, please call the Everkem corporate office at 1-800-638-3160, or visit their site at www.everkemproducts.com



About Everkem Diversified Products

Everkem Diversified Products specializes in the manufacture of top quality sealants, adhesives and specialty chemical compounds used for construction and industrial applications. Product lines include high temperature mortars, sealants, putties, and accessories used for firestopping and refractory applications; a variety of sealant technologies including latex sealants, silicones, insulating foam sealants, and state-of-the-art hybrid sealants; as well as specialty electrical chemicals. Headquartered in Winston-Salem, NC, the Everkem foundation is built upon innovative manufacturing capabilities, progressive product solutions and old fashioned personal service and customer support. For more information about our products and capabilities visit our website at www.everkemproducts.com or contact us via phone at 1-800-638-3160.



Contact:

Matt Lowman – Marketing Manager

marketing@everkemproducts.com

5180 Indiana Avenue

Winston-Salem, NC 27106

Ph: 1-800-638-3160

Fx: 336-661-7969

More from Adhesives & Sealants