Polyurethane Foam Resin exhibits viscoelastic behavior.
Press Release Summary: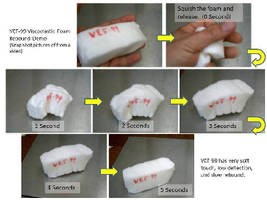 Consisting of liquid polyether based polyurethane, which stays soft at very cold temperatures, VEF-99 Resin creates flexible foam for variety of custom applications. Product has very low deflection when cured and conforms to object with viscoelastic behavior. Pot life is above 30 seconds, which allows small amounts to be batched manually without dispensing machine. With mixing ratio of 1:1 by volume, resin is suitable for product designers, prototype makers, and short-run part manufacturers.
---
Original Press Release:
New Hand-Pourable Viscoelastic Polyurethane Foam Resin, VEF-99
VEF-99 is formulated to create very soft flexible foam for variety of custom applications.  The cured foam has a very low deflection even into a deeper depression rate, and it conforms to the object with a viscoelastic behavior.  VEF-99 is liquid polyether based polyurethane, which stays soft at a very cold temperature.

The component materials are low viscosity liquid at room temperature.  The pot-life is above 30 seconds, which allows small amounts to be batched manually without a dispensing machine.  The mixing ratio is set for 1:1 by volume for easy metering.  This makes VEF-99 a more user-friendly viscoelastic foam material for product designers, prototype makers, and short-run part manufacturers.

We have significantly improved the processing issues with our previous viscoelastic foam formulations.  VEF-99 produces more dimensionally stable molded foam parts after the crushing process.  The component materials are more stable in wider temperature conditions for shipping and storage.

These properties of VEF-99 enable product designers to create unique foam parts to be relatively easily molded to make cushioning parts and many specialty products.

http://northstarpolymers.com/NorthstarPolymers/Foam/FlexibleFoam/Viscoelastic_Foam.htm